Reading Time:
2
minutes
Greetings to our Base4 Partners!
This past week, Marriott announced their plans to open 300,000 new hotel rooms by 2019. This translates to opening one new hotel every 14 hours for the next 3 years! We are honored to partner with them in many of their current design projects and wanted to highlight their significant achievement.
Additionally, we are honored to announce that Marriott has nominated Base4 for the Design Firm Excellence Award. Each year, Marriott awards one firm with this recognition.  The recipient must demonstrate innovation in design, strong team dynamics, and readiness to share design information.  Furthermore, this award highlights a commitment to the advancement of the brand-design aesthetic and positive contribution to overall guest experience.  We want to thank the entire Marriott team for this special recognition.
Last week I had the opportunity to visit the Marriott Headquarters in Bethesda, MD.   I was graciously hosted by Tom Kostelecky, Director of Design at Marriott International, who spent the day touring the mock-up rooms and discussing the design evolutions of their various flags.
Base4 has worked on Marriott projects across the United States and is currently designing at least one project from each of their major flags, including Marriott AC, Moxy, Courtyard, Springhill Suites, Fairfield Inn & Suites, Residence Inn, Towne Place Suites, Aloft, Element, and Delta.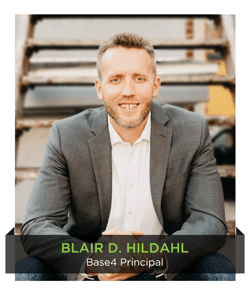 Thank you,
Blair Hildahl
Base4 Principal
608.304.5228