Reading Time:
5
minutes
Award-winning design firms—BASE4 and neUdesign—make modular profitable for you.
It's no news that BASE4 is pro-modular. We are confident in the potential of permanent modular construction and have been making every effort to make it more accessible to you, the industry leaders.
And so, it thrills me to announce that we've taken a leap forward in this endeavor by joining forces with a leading modular architecture firm, neUdesign. Read on!
What is neUBase4?
neUBase4 is a joint effort by two award-winning design firms—BASE4 and neUdesign. Our leaders' collective goal is to make modular construction affordable and accessible to all developers for any project, anywhere.
While both firms remain separate entities for traditional projects, neUBase4 combines years of first-hand modular experience and expertise to serve clients, create an immersive design experience, and leverage our extensive network to get the best deals.
What We Offer
We offer the full range of design solutions and consultation for permanent modular projects in all sectors, including hospitality, multifamily, mixed-use, senior living, student housing, and other commercial projects.
We partner with leading modular manufacturers and offer complete architecture, engineering, and interior design solutions. Right from the feasibility study and concept to shop drawings and permitting, neUBase4's efficient designs and value engineering practices work for you.
Leadership
Making up our team are recognized modular industry veterans, specialized in every aspect of the modular design process. We have senior architects with over a decade of first-hand modular factory experience leading operations.
Our team is associated with several formal associations, like the Modular Building Institute, NCARB, LEED, AIA, and Seattle's Design Review Board, among others.
BASE4 CEO Dr. Garry Vermaas and neUdesign's Troy Tiddens are spearheading this partnership. An industry leader, Troy has worked in a recognized modular factory for over 17 years, bringing first-hand understanding of construction manufacturing.
"It has been my personal mission to inject AEC with technologies that benefit all, and this modular design partnership opens floodgates of opportunities. I couldn't be more proud of how far we've come. It's a pleasure to be working alongside the very talented neUdesign team to make modular accessible to all," commented Dr. Garry Vermaas.
"I'm very excited about this opportunity to partner with such a dynamic group of individuals. It's rare to find another team of industry advocates who share and embrace many of our core values, and I believe this partnership will have a lasting impact on the industry as a whole. With our hands-on manufacturing experience, supported by expanded talent and resources, we'll be able to provide design solutions geared directly towards the manufacturing and assembly process at a much larger scale," adds Troy Tiddens.
Several other experienced AEC talent—including Blair Hildahl, John Magnan, Chad Hart, John Morefield, Jake Boden, and Nate Loeffelholz—are heading the neUBase4 efforts. Check out the full team here.
Considering a modular project? There can't be a better time than now to reach out for a complimentary consultation.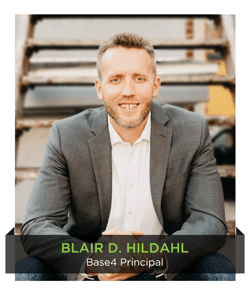 Thank you,
Blair Hildahl
BASE4 Principal
608.304.5228
[email protected]

Modular Projects
From hospitality and multifamily to mixed-use development and beyond—our team members have influenced these remarkable modular projects throughout their careers.
Grant Hotel, Waco, TX
World's first-ever steel modular Hyatt Place
Emerald Ridge, Watford, ND
Courtyard by Marriott, Pittsburg, CA
30-unit modular multifamily apartment, TX