Reading Time:
3
minutes
Save time, money, and headaches on your next hotel project – Consider Revit for your next design.
In case you missed it… last week, we explored the basics of BIM and how powerful Revit can be as a design tool for your next hotel. (Link to Part 1). In today's module, we focus on one of Revit's most important benefits to hotel owners – project coordination.
With Revit, all aspects of a project are modeled in 3d space.  Typically and without using Revit, architects and engineers analyze 2d CAD plans, laying them next to one another as part of the project coordination effort. This process remains tedious because the required coordination information is on different drawing sheets- forcing designers to flip among the architectural, structural, and mechanical sets to avoid drawing conflicts.
As often occurs, project coordination becomes even more difficult when an architect has hired another firm to complete the structural and MEP engineering. As you can imagine, this process relies heavily on individuals to catch drawing conflicts, which naturally leads to human error and poorly coordinated hotel drawing sets.
When used properly, Revit eliminates many of these costly and frustrating issues. Since all project elements in Revit are modeled in 3D space, designers can easily pinpoint potential coordination issues in a drawing set. Revit understands how buildings are assembled and can run full conflict checks. Any identified conflicts, such as a mechanical duct running through a steel beam, alert the designer to the issue via the conflict report. For these efficient and time-saving benefits, however, all design disciplines (Architecture, Structural & MEP) must be modeled in Revit.
Base4 has been using Revit exclusively for the last several years for architectural design. We also are completing MEP-FP and structural design in-house using this same platform. For hotel owners, this translates to fewer drawing omissions, increased project coordination, reduced in-field rework/change orders, and- ultimately- a faster project schedule.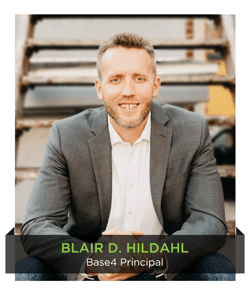 Thank you,
Blair Hildahl
Base4 Principal
608.304.5228