Reading Time:
3
minutes
Hotel Energy Management Systems – The Basics
A typical hotel room can be unoccupied nearly 70% of the time! In addition, hotel guests are much less concerned about saving energy in your hotel than at their home. Therefore, many hoteliers pay to heat, cool, light, and power TVs for a guestroom with no one in it. How can hoteliers avoid this? One great solution is an Energy Management Systems (EMS).
The Basics:
An EMS is a combination of hardware and software that works to lower hotel energy consumption and improve maintenance operations.
These systems utilize in-room occupancy sensors to determine if a guest is present and then applies specific guestroom profiles that adjust lighting, power accordingly.
An EMS also uses data collection and program scheduling to increase hotel operational and maintenance efficiency.
The overall goal of these systems is to reduce energy use and maintenance while improving the overall guest experience.
The Benefits:
Lower Energy Use – In-use devices and lighting in an unoccupied room, such as lights and TVs, will be turned off. In addition, thermostats can drift to a temperature that requires less demand on the HVAC system.
Improve Guest Experience – An EMS can prep a guestroom at check-in to arrival state. This setting adjusts the thermostat to a comfortable temperature, turns on welcoming room music, provides a welcome greeting on the TV, and turns on necessary lighting. An EMS also recognizes when a room is occupied by a guest, which can help avoid unnecessary housekeeping disruptions.
Optimize Preventative Maintenance – An EMS can track HVAC run-times and notify hotel maintenance when filter and battery updates are required. This feature allows proactive maintenance before guest complaints and avoids generic, unnecessary replacements.
Forecast HVAC Problems – An EMS can help identify faulty or failing HVAC equipment by analyzing run-times as compared to similar units. This feature alerts you to urgent maintenance needs, such as when room temperatures drop too low during the winter season.
Major Players:
There are several major companies offering EMS products in the hospitality space.  Below are the top five:
In my next newsletter I discuss this topic in detail and explain some of the major components that make up these systems. I'm looking forward receiving further questions from you, so please don't hesitate to contact me by email or phone.
Thank you,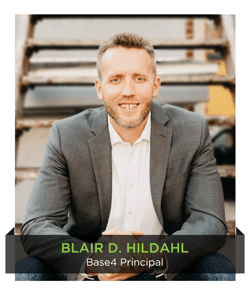 Blair Hildahl
Base4 Principal
608.304.5228