Reading Time:
3
minutes
FF&E Tariffs In my last newsletter, I explained the pros and cons of modular elevators. Today I want to address a rising concern in the industry—U.S. tariffs on furniture, fixtures, and equipment (FF&E) used in hotels. Why the Tariffs Recent trade tariffs on Chinese imports have become a concern for developers in all industries. The goods being affected amount to $250 billion and span nearly every sector. Furthermore, the initial 10% tariffs may increase to 25% by the end of the year. The Situation in Brief
Most Chinese products arriving in the country after September 2018 are subject to taxes. *
Much of furniture, fixtures, and equipment (FF&E) are imports from China and Mexico, among other countries. Even the brand-mandated prototypes often are imported FF&E. **
Since brand prototypes continually evolve and update, the stockpiling of FF&E before tariffs began was not an option for hoteliers.
  What Follows
The cost of domestic manufacturing also will increase as smaller parts are still sourced from countries like China.
Whether you import FF&E or buy domestic, taxes will affect business.
The industry experts estimate the tariffs to reach the following increases:

20% tax increase on stone goods
10% tax increase on finished goods
4% tax increase on fabrics ***

This present economic situation increases costs for hotel stakeholders looking to renovate and construct new properties.
Higher costs eventually will pass down to consumers who will have to pay higher ADR (average daily rate).
Hoteliers must discover more economical ways to purchase FF&E.
Potential Solutions and Benefits
Hoteliers can work with designers who understand the need for flexibility in purchasing their FF&E.
Understanding brand standards for the different flags may help hoteliers choose to focus on developing hotels that require simpler FF&E plans.
As industry and exports shift to other countries and localities, hoteliers can partner with designers who maintain the most current understanding of the FF&E industry.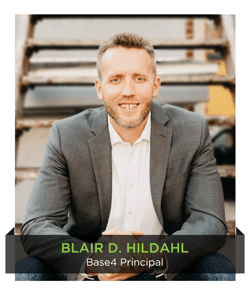 Our industry can adjust to meet the shifting economic landscape.  Base4 actively plans to work in the most efficient and economically responsible ways. Do not hesitate to discuss with me how to strategize for your next hotel project.  
Thank you,
Blair Hildahl
Base4 Principal
608.304.5228
  Sources:
** http://www.hotelnewsnow.com/