Reading Time:
3
minutes
Does My Hotel Need a Generator?
Hospitality leaders must prioritize the safety and comfort of their guests!  One important consideration is your provision of an uninterrupted power supply. Guests expect hotel power will be functioning, regardless of natural disasters or other unforeseen electrical malfunctions. During unanticipated power outages, maintaining a reliable power source is vital to serving your guests. In this newsletter, I focus on the basics of hotel generators.
Does My Hotel Require a Generator?
In most cases, a generator required if a hotel has 5 or more floors above the grade.
What types of generators are used?
Both natural gas and diesel generators are acceptable.  However, for a typical 100-key, limited service hotel, a natural gas generator is used for the following reasons:
Natural gas doesn't require storing large quantities of fuel or signing a fuel delivery contract.
Natural gas units are typically smaller and more appropriately sized (100-250 kW) for typical hotel demands.
What does a generator need to power in my hotel?
According to National Electrical Code (NEC), a generator typically supplies power to three main areas.
1. Emergency Circuits:
Egress path lights
Exit lights
Fire pumps
Fire alarms
Card readers
Magnetic door holds
Other critical and life safety circuits
2. Code Required Standby Circuits
Elevators
Building emergency lighting
Data & communication system
Ventilation and smoke removal
Front desk outlets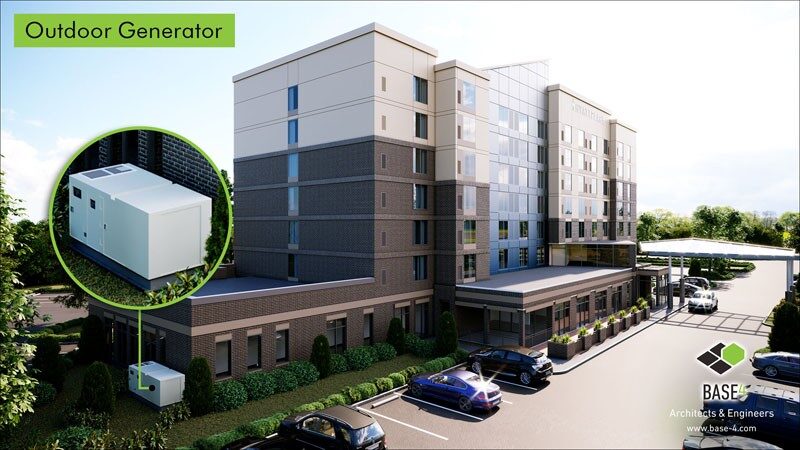 3. Optional Standby Circuits:
Food storage & processing
HVAC units
Electric sockets
While not required by code, optional standby circuits allow hoteliers to maintain an expected level of guest experience- especially at the higher chain scales where guest comfort remains a top priority.
What should I consider when I place a generator on site?
Flooding –  Generators should be elevated, especially in coastal areas.
Sound Considerations – Generators are loud, so designing sound barriers is advised.
Guest Site Lines – Generators are large, bulky pieces of equipment that require strategic placement to remain out of sight.
Access – Technicians must be able to access and service generators, requiring proper clearances around the units.
What is the size of a typical hotel generator?
A typical 150 kW generator is approximately 10' long by 5' wide by 6' tall and weighs 7,000 lbs.  This is a very large piece of equipment that must be accounted for during the early design phase.
Do I have to regularly test my generator?
Yes, according to The National Fire Protection Association (NFPA), you must regularly test generators.
I'm looking forward receiving further questions from you to discuss the most suitable generator options for your project. Please don't hesitate to contact me by email or phone.
Thank you,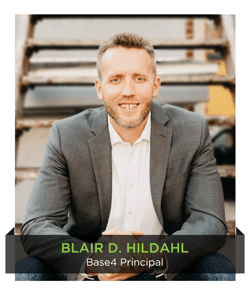 Blair Hildahl
Base4 Principal
608.304.5228