Reading Time:
2
minutes
Greetings Base4 Partners!
Because of the quality of the Base4 staff and their collaborative partnerships in the community, we have been privileged to design some of the most efficient and innovative hotels and structures in the world. As a result of these efforts, Base4 is excited to have earned a spot on the 2016 Inc. 5000
 list. For 35 years, Inc. 5000 has welcomed the fastest-growing private companies in America into this exclusive club.
Most organizations on this year's list have accomplished more than five-fold expansion within a three-year period and include companies such as Dollar Shave Club, Square, and Yeti Cooler. Base4 now joins the ranks of these and other previous winners, including Intuit, Zappos, Under Armour, Microsoft, GoPro, Timberland, Clif Bar, Patagonia, and other notable Inc. 5000 alumni. This October, Base4 will be attending the 35th Annual Inc. 5000 gala to accept our award. We are looking forward to learning from previous recipients and from the inspirational programming highlighted by the keynote address given by world-renowned motivational speaker, Tony Robbins. We look forward to sharing this experience with you in future newsletters.
Thank you,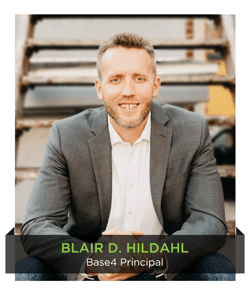 Blair Hildahl
Base4 Principal
608.304.5228