Reading Time:
3
minutes
Here's what we bring to the table
Over the years, leading hotel chains have placed us among their preferred design firms. And now, we are thrilled to be a Best Western preferred architecture, engineering, and design firm. We thank and appreciate the Best Western team for this recognition!
Here's what BASE4 brings to the table
Faster and higher-quality design: Our team of 270+ highly skilled architects, engineers, project managers, and leaders play to win. BASE4's global offices render us 24-hour workdays, helping us run more quality checks within the stipulated timeframe—resulting in fewer roadblocks during the city and franchise reviews.
A balanced technology/human infrastructure: We utilize a technology-driven design approach to enhance efficiency. Harnessing virtual reality, cutting-edge building information modeling (BIM), and modular construction helps us deliver superior designs and immersive design experience.
Higher quality control: We perform all design services under one roof, including architecture, structural & MEP engineering, interior design, 3D & virtual reality illustrations, and construction administration—giving us an unparalleled quality and coordination advantage.
A thorough understanding of codes & brand standards
An award-winning team: We've been recognized among the top hotel architecture firms and fastest-growing companies in the U.S. for years in a row.
About Best Western
With brands ranging from economy to luxury segments, Best Western caters to a broad guest demographic.
Feel free to reach out if you're looking to develop a Best Western!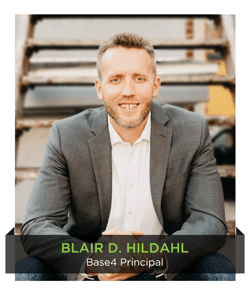 Thank you,
Blair Hildahl
BASE4 Principal
608.304.5228
BlairH@base-4.com