Reading Time:
4
minutes
Why does my hotel room smell so stale?  (Part 1)
We've all experienced the comforting sensation of stepping into a hotel guestroom and being met by a rush of fresh clean air as we open the door. First impressions to hotel guests are important and fresh air gives the immediate feelings of clean, cool, and calm which is exactly the guest experience hotel owners want to give their guests. On the other hand, we've all probably experienced the opposite and been hit in the face with humid air or stale odors and the negative impression it leaves.
The difference between these two situations is primarily related to the quality and quantity of fresh air that is introduced into your guestrooms. In this two part series on fresh air in guestrooms, we'll explain what you can do to ensure your guests don't check-out the minute they check-in.
ASHRAE 62.2 requires minimum fresh air ventilation rates for hotel guestrooms.  In addition, hotel franchises such as Hilton, Marriott, IHG, and Hyatt have minimum fresh air supply rates that exceed these code requirements.  Below are the three primary methods for introducing fresh air into a hotel guestroom. (Please note that not all these are allowed by the hotel franchises.  In Part 2 of this series we will explore what is allowed and required from all the major hotel flags)   
1. PTAC With Open Damper – This is the cheapest option and also the least effective. A small outside air vent is opened in a PTAC unit within the guestroom. Fresh air is brought directly into the room, but this air is 100% untreated prior to delivery. If the outside air is humid, the fresh air brought in will be humid. If the outside air is stale smelling, the fresh air brought in will be as well.
2. PTAC With Two Stage System – These units have become increasingly popular as a means to meet some of the hotel franchise OA requirements. These PTACs have a two-stage system in which the primary stage conditions room air (similar to a typical PTAC) and the second stage brings in conditioned outside air. Since this means additional mechanical equipment in the guestroom, the guest experience can be compromised due to the extra noise coming from the unit. The primary equipment being installed in hotels that has these features is Islandaire's Dr. PTAC.  These units cost about $350 more than a traditional PTAC.
3. Dedicated Outside Air System (DOAS) – This system is the most effective, but also the most expensive. A DOAS uses a separate unit to condition (heat, cool, humidify, dehumidify) all of the outdoor air brought into a building for ventilation and then delivers it to each of the guestroom spaces by directly ducting fresh air into all of the guestrooms. Meanwhile, a separate local HVAC unit (such as a fan coil or PTAC) in each guestroom provides cooling or heating to maintain the desired space temperature. This means constant 100% conditioned fresh air to the guestroom space is delivered at a preferred humidity and temperature, frequent fresh air changes and no additional mechanical equipment in the guestroom.
These three options ultimately offer much different experiences for your guests. A guestroom supplied with fresh air via a PTAC damper will provide a much different guest experience than that with a DOAS.  Hotel owners need to evaluate what option is right for their hotel based on the franchise requirements, geography, weather and the guest experience they are trying to achieve.
Please note that fresh air and ventilation in hotel guestrooms is a very detailed topic which an entire book could be written about.  Today, we have only scratched the surface.  We encourage you contact us if you'd like us to dive into any of these topics further.
Tune in for Part 2 of this series, where we will discuss the hotel brand's stance on these fresh air systems and what they will allow.  In the meantime, if you have any questions about the benefits or challenges of these three options, please feel free to contact me with any questions.
Thank you,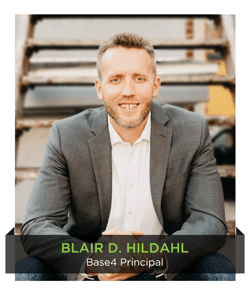 Blair Hildahl
Base4 Principal
608.304.5228