Reading Time:
2
minutes
Announcing Base4 Interior Design!
Base4 proudly introduces our Interior Design Department!
Earlier this year, we launched our in-house and US-based Interior Design Department- Base4 Interiors- with a team of skilled, experienced and innovative designers. With the addition of Base4 Interiors, our firm now offers full-service AE design, in-house. The intent of the expansion is improved integration of clients' design needs into the overall production process for projects of any size or style. The Base4 Interiors addition offers our clients well-coordinated products that reflect the vision and requirements of the brand.
Led by Lead Designer Luciana Thompson, LEED AP, and Director Jodi Vermaas, PhD, Base4 Interiorscoordinates between our clients and architectural, engineering, and construction administration departments to deliver an integrated and cohesive final product. Base4 Interiors leadership, along with our Architectural/Interior Designers, Lindsey Bloor, Purvi Thakre, and Faaiza Zafar, work closely with clients throughout the conceptual design phase to satisfy both brand requirements and stylistic objectives.
Our team offers years of hospitality design experience with such franchises as Hilton and Marriott. Additionally, they demonstrate the creativity and design expertise to keep pace with the rapidly developing trends in the hospitality industry. With this experience and expertise, our team coordinates their distinct ID processes among the global Base4 team for seamless delivery of final designs.
We look forward to working with many of our clients on more projects in the very near future.
Thank you,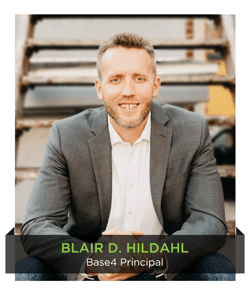 Blair Hildahl
Base4 Principal
608.304.5228