Reading Time:
3
minutes
Modular construction in the U.S. has grown significantly in the past few years. The increased productivity and lower costs are the driving factors to embrace modular construction. Builders have found ways to construct faster, safer, and reduced labor costs—modular construction is the key!
Our team partners with developers and general contractors to rethink traditional building methods by infusing innovative technology, forward-thinking design, and offsite manufacturing principles to build projects CHEAPER and FASTER!
Here are some of the great projects BASE4 has worked on:

All Services In-house
We have over 200 engineers, architects, and designers ready to move your projects through to completion—with fewer coordination errors and faster speed.
Our commitment to advanced innovation means our team brings the best of prefabrication, offsite, and modular methods—reducing costs and eliminating inefficiencies. In addition, our team members are experts in design, having design experience in every state—ensuring quality and speed to market. Feel free to reach out with any questions!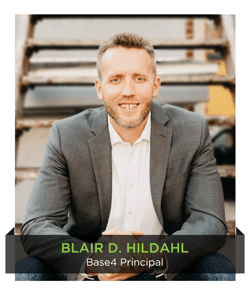 Thank you,
Blair Hildahl
BASE4 Principal
608.304.5228
BlairH@base-4.com