Reading Time:
4
minutes
Now that we have established why NFPA 13 is the right fire safety code for your hotel, today we explore one specific area of fire protection coverage that often leads to a great deal of confusion—combustible concealed spaces.
 
The National Fire Protection Agency (NFPA) requires that hotels be equipped with automatic sprinklers. While this is true in theory, the NFPA does offer alternatives to certain areas, such as closed cavities formed between studs or joists and concealed areas between ceilings and wood joists. These combustible concealed spaces of less than 6 inches width that may contain wiring, plumbing, or be void of any material still need alternative fire protection.
Over time, many NFPA 13-approved alternatives to the sprinkler system have emerged. Here are the possible ways to fireproof the concealed spaces in a hotel:
1. Sprinklers – As a fire safety standard, upright sprinklers can be installed in the concealed spaces. Note that this is in addition to the typical downward pendent sprinkler heads that you see in a typical hotel room.
Pros:
This is the conventional and straightforward method, well recognized by the code.
With sprinklers in place, there is no need for any additional fire safety measures—such as draftstopping, which prevents horizontal movement of gas and smoke in concealed spaces.
Cons:
Sprinklers are much more expensive in terms of installation and maintenance.
2. Compartmentalizing – Compartmentalizing the concealed spaces into small units with drywall help restrict the spread of fire. Gypsum boards (e.g.,  drywall, sheet rock, plasterboard) prevent the movement of flame or smoke in concealed spaces (also called fireblocking).
Pros:
Provides cost-effective fire protection by replacing costly sprinklers in that area.
Cons:
Draftstopping with drywall also should be provided.
3. Blown Fiber Insulation – This method fills the concealed space with non-combustible insulation, such as cellulose and fiberglass.
Pros:
Since the insulation is blown into a concealed space, it is convenient and efficient for air-tight, irregularly shaped spaces.
The cellulose insulation is made from eco-friendly materials.
It provides excellent thermal and sound insulation.
Cons:
Upfront cost may be higher compared to cheaper alternatives.
Special equipment is needed to insulate a space.
4. Batt Insulation – Made from fiberglass, batt insulation can be used to fill the interstitial cavities for protection.
Pros:
It is a labor- and cost-effective alternative to the sprinkler system.
It installs faster, with no specially trained labor required.
Batt insulation offers better thermal and sound insulation than its counterparts.
It is easy to maintain.
Cons: 
Batts need to be custom cut for very small spaces, which requires extra labor.

Filling a concealed space with batts can decrease insulation efficiency.

Fiberglass batts are not air-tight, requiring additional work to air-seal the area.

This is important because the code requires a closed space to prevent any flame, smoke, or gases from leaking and spreading to other areas.
Which Way to Go?
With so many options, it is easy to get confused. Feel free to get in touch! Our team of dedicated fire safety experts can advise on the most economical and practical solutions for your hotel.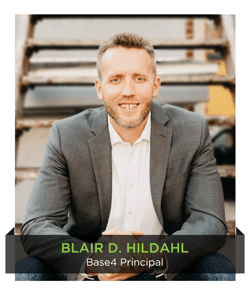 Thank you,
Blair Hildahl
Base4 Principal
608.304.5228