Reading Time:
4
minutes
Boardroom Design Reimagined!
Guest preferences continue to evolve! As designers continue to reimagine more functional guestrooms and interactive common spaces, the underutilized boardroom also has begun to change shape. The formerly stale feel of boardroom design has been rapidly progressing into a multifunctional and creative space. Indeed, your hotel could offer dynamic boardroom space useful for any kind of board meeting, presentation, brainstorming session, or social event. Here are some considerations:
Enough Capacity – In designing your conference room, make sure there is ample room for attendees to get up and move around. If you want space for 30 guests, you will need a room with dimensions of at least 32 feet by 14 feet and the right choice of furniture to encourage interaction.
Location – A quiet place with few distractions where outdoor sound doesn't reach is more relevant for boardrooms. Keeping the noise down and providing privacy is vital while allowing people to see one another and feel connected.
Lighting Design – Lighting design is one of the most important parts of designing boardrooms. If the room is too dark, guests may feel drowsy.  If a room is too bright, they may not feel relaxed. Per interior design wisdom, color alters the feel and ambiance of a room and has an effect on behavior and mood.
Bring Nature Inside – Bringing natural elements from the outdoors inside inspires minds of boardroom attendees and has a positive impact on their performance and wellbeing. The entire effect must be more residential and relaxed in contrast with the typical meeting area.
Comfortable Seats – Comfort remains vital in the design elements you choose. Designers should choose comfortable and functional seating that also reflects the stylistic elements of the hotel.
Technology – Boardrooms must contain the latest technology. Attendees should not have to leave the room to take care of tasks related to the meeting. Also, audio/visual screens, computers, and printers can be permanently installed or be portable.  Your interiors team should consider where to place charging stations, wires, and outlets so they can be hidden into boardroom tables or desks spaces.
Table Configuration – Since boardrooms are multifunctional, table layout should reflect room size and hotelier needs.  Here are the most popular configurations:

A rectangular or oval table with chairs placed all around it.
A classroom style, in which a series of rectangular tables are spaced so all attendees face the front podium area.
The hollow rectangle with a space in the middle to facilitate collaboration.

Boardroom Buffet – A buffet table with built-in cabinets allows you to serve refreshments and encourages attendees to remain in the room for all their immediate needs.  Numerous buffet styles are available to fit your needs.
The Base4 team has been excited to envision new boardroom designs that include unique interior design elements:
If you'd like to discuss more hotel interior design options for your next project, please contact me.
Thank you,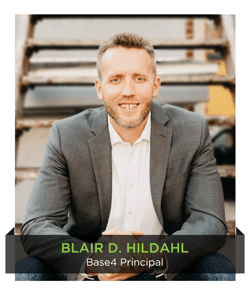 Blair Hildahl
Base4 Principal
608.304.5228