Reading Time:
3
minutes
You can tell a lot about a hotel by its lobby. Most guests judge the quality of their stay within minutes of first entering a hotel. For hoteliers, the lobby serves as a portal to showcase the hotel's personality—and that's why every detail counts!
In today's newsletter, I focus on your hotel's lobby design and related cost considerations.
Know Your Lobby
No matter the brand, each lobby is unique and purposeful, announcing to guests, "Welcome! Come and stay a while!"  
 
While there's no one-size-fits-all design, each hotel lobby should be designed with the following points in sight:
Social Buzz: Being the centerpiece of your hotel, the lobby is expected to be a social hub where guests can relax, grab a bite, conduct meetings, and network both on- and offline.

Brands like Moxy, Tru, Radisson Red, and Canopy—among others—were deliberately designed for social immersion in public spaces.
An open-door-policy, such as having local musicians perform in the lobby, can establish the social factor.
Geography: Your entrance should reflect the natural elements and cultural highlights of its geographical location. The lobby should feel homey and local—with theme-appropriate FF&E.

An increasing number of developers prefer adorning the lobby with local artwork.

Work & Play: A lobby space often serves as a meeting and/or working spot; always incorporate both the functionalities.
Strategic Placement
Developers work within the bounds of brand prototypes with varying levels of customization. The following are general considerations for a functional lobby:
Good space-planning prevents crowd gathering.

Strategic Planning: Efficient space planning ensures an organized lobby, where each element is strategically placed for smooth operations and  flow.

An open feel in the lobby—for guests to explore eateries, lobby bars, markets, and other nooks—goes a long way.
Added elements for on- and offline socializing— Easy-access Wi-Fi, numerous power outlets, appropriate seating and lighting, facilities for entertainment and F&B service create buzz and are essential.
What Looks Good
Aesthetics matter! Here are our interior designers' takeaways from BDNY this for this year:
Nature-inspired designs are always a good idea.
Bold and colorful geometric shapes continue to gain momentum.
Oversized decorative lighting pieces are catchy and luxurious.
Finishes that resemble handiwork feel more authentic and high-end.
What About the Cost?
Budget, schedule, and quality differ for each project. 
Your interior designer's relationships with leading vendors is the key to finding the best FF&E solutions for your project.
Additionally, the designer's collaborative efforts with procurement can maximize FF&E value—while maintaining the design intent. (Read how to plan for rising FF&E costs due to tariffs)
Our interior design team enjoys excellent vendor relationships and possesses vast knowledge and technical expertise to work well within the budget. Interested in making your lobby the crowd-magnet? Let's chat!
In the meantime, take a virtual tour of an optimal interior design completed by our team: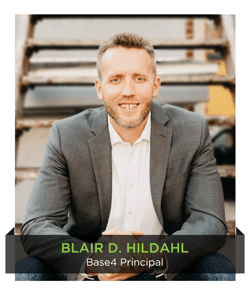 Thank you,
Blair Hildahl
Base4 Principal
608.304.5228