Reading Time:
3
minutes
Here's to the generation born into the aftermath of World War II, who witnessed the Space Race, participated in the Civil Rights Movement and Vietnam War, danced along to disco, raised children through the age of Reaganomics, witnessed the fall of the Berlin Wall, and then raged into the birth of the internet, cellular phones, Wi-Fi, social media, and global connectivity… who are now embarking upon the age of self-driving cars, 3D printing, and artificial intelligence. The current senior population has seen more in their lifetime than all the previous generations put together. And they are ready for more! From the full life to the good life—Pura Vida. Enter Vida4.
 
Senior living—as we know it—is a thing of the past. Vida4 refused to accept the traditional model of aging, looking instead to continue the greatness of a full life. Vida4 is passionate about honoring and serving a generation of individuals who have never accepted the limits of what is possible. Now we stand with them to discover and create a living experience that follows a tradition of exploration, adventure, connection, and purpose. And we venture into this realm with what we do best—design.
Vida4 is not just a senior living design division. Instead. We are a tech-savvy, edgy, and visionary group of individuals determined to transform how seniors live.
Rooted in our firm's core values of Respect, Honesty, Humility, and Fun, our journey begins by serving our clients and stakeholders to create the ultimate senior living experience.
 
Our visionary CEO Dr. Garry Vermaas sits at the helm with the rest of our relentless executive team, consisting of Chief Marketing Officer Blair Hildahl, Chief Financial Officer Adam Ginsburg, Chief Production Officer Vijay Rathod, and Chief Leadership Officer Dr. Jodi Vermaas. Their proven leadership skills and business acumen have been well recognized in the hospitality industry.
BASE4—our award-winning parent entity—is a leading architecture and engineering firm in the hotel space. We bring together many years of hospitality expertise and a passion to salute our values through the creation of tech-supported innovations that overcome the antiquated limitations inherent in traditional senior living models. Vida4 provides cutting-edge solutions to eclipse the current spectrum of senior living facilities—including independent living, assisted living, skilled nursing facilities, and continuous care retirement communities. At Vida4, the two-fold goal is to 1) understand the needs, desires, and challenges unique to the senior living market and 2) commit to break through all stereotypes and limitations.
So, what's next?  Vida4 now begins a movement to transform senior living to reach the level of adventure, community, and purpose to which they are accustomed—driven by our design expertise and inspired through the lens of our values.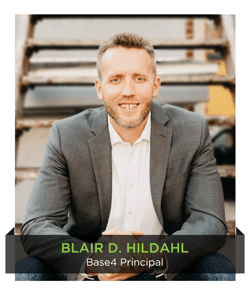 Thank you,
Blair Hildahl
BASE4 Principal
608.304.5228
BlairH@base-4.com