Reading Time:
3
minutes
Given the importance of lighting design in senior living facilities, we move on to discuss the best type lights for the job—LEDs. Most of us already prefer LED lights over the alternatives, read on to understand why you should choose
Why LEDs
LEDs have proven to be the most efficient lighting solution. In addition to using up to 80% less energy compared to conventional options, LEDs have several major benefits:
1. Higher Savings: For assisted living facilities, where lighting is consumed around the clock, LED lights can reduce costs by 30% to 40% Source .
2. Reduced Maintenance: With only occasional quality inspections and cleaning, LED lighting systems can last for years based on its usage.
3. Reduced Cooling Cost: Compared to incandescent, LEDs emit very little heat per watt, which renders more efficiency to HVAC systems, further reducing energy costs.
4. Environmentally Friendly: They contain no mercury as do standard compact fluorescents.
5. Guaranteed: LEDs typically come with a 5- to 10-year warranty period and an extension scope.
6. Health Benefits: LED lighting is not harsh on the eyes and it is available in different tones, suitable for the day and night. LED lighting scheme gives a soothing brightness that promotes wakefulness in the daytime and helps in regulating the circadian functions. Hence the older adults and ADRD patients can achieve sound sleep at night. Sound sleep can help in improving the mood and reducing behavioral issues of residents. Source
A Case Study
A senior care center and nursing home in Sacramento, California, retrofitted LED lights to improve the quality and quantity of lighting and save on energy consumption in the facility.
A corridor, which previously had incumbent fluorescent lighting, saw a 68% savings in annual consumption with LEDs.
The nursing station projected approximately 73% in annual energy savings. Power input was assumed more during the daytime (66%) and less during evenings and nights (20%) due to light tuners. Source
Full Control
The tunable nature of LEDs means that the light output is controllable per lighting needs at different times of the day, leading to optimal energy consumption.
The tuning can be performed manually or programmed to change lighting levels automatically.
Many LED bulbs have three colors—cool white, warm white, and neutral—giving users the choice to switch based on needs.
Vida4 understands the niched needs of these unique spaces and strives to create the optimal living experience. Let's discuss how your facility can improve lighting and increase energy savings!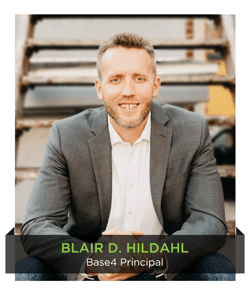 Thank you,
Blair Hildahl
BASE4 Principal
608.304.5228
BlairH@base-4.com