Reading Time:
3
minutes
LET'S FIX COST OVERRUNS.
Cost is arguably the strongest determiner of the construction process. When projects start going over budget–many compromises have to be made, often leading to unwanted schedule delays.
Relative to original budget, average cost overruns of construction projects were at 70%–found McKinsey & Company.1 That's incredible!
What's the Problem?
Poor communication among designers, GCs, tradesmen, and developers
Underestimating resources and scope
Low-quality installations 
Lack of quality control
Weather delays
Labor issues involving productivity, availability, unions and skill gaps
Rising construction costs 
It may appear that all forces are working against you when any of the above problems drive your budget through the roof.
Products are Predictable, Services aren't
McKinsey Global Institute is a highly-regarded think-tank that analyzes the construction industry and recommends solutions. It advocates productization of the industry–that is, looking at buildings as products, which can be manufactured in a factory just like cars.
Design for manufacture and assembly (DfMA) is a methodology that ensures that this "production" of buildings happens with maximum productivity at every stage as well as the following:
sets the right estimates for resources
clearly defines the processes and responsibilities for every stakeholder
decreases cost overruns caused by unpredictability and coordination issues
Modular construction and other forms of prefabrication (collectively known as industrialized construction) are real-world and extremely efficient applications of DfMA. ​​​​​​​AEC professionals observe noteworthy budget improvements with prefabrication, as shown below:
Implementing the Solutions
At BASE4, we've engineered our processes with a simple goal–to provide maximum productivity and quality within the right budget. In addition to being leading architects, engineers, and interior designers–we can help you with all of these products:
Industrialized construction design and consultation for manufacturers, developers, and GCs
BIM (building information modeling) consultation for streamlining workflows
Market assessments for opportunities to help you execute a new venture or line of service
Networking, business development, and immersive virtual reality simulations of projects
Feel free to drop me a note about any questions. We're helping several first-time industrialized construction developers to save money and increase productivity on their high-quality projects.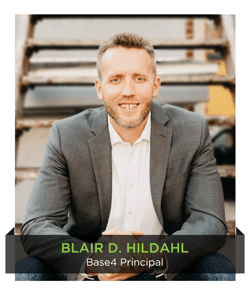 Thank you,
Blair Hildahl
BASE4 Principal
608.304.5228
BlairH@base-4.com


Sources:
1 Reinventing construction: A Route to Higher Productivity – McKinsey & Company