Reading Time:
4
minutes
Go Lean with Design & Labor Distribution
Many of you may be running a lean business—and are doing great at it. It's all about trimming the fat.
But there are still a few places with savings potential where most don't go lean: construction design, operations, and labor distribution. Because these factors largely depend on third parties, such oversights are understandable. Still, a developer can take control without too much effort and see substantial cost cuttings.
Let's Draw a Parallel
To completely understand what I'm about to share, I recommend watching this quick video. What if cars were built like buildings? (It's a personal favorite!)
Then, read on.
The Lean Strategy You Can Adopt
To implement this lean strategy, you don't have to rethink the process of design and execution—there's already a proven methodology for that. The key is to look at design and execution from a manufacturing perspective.
When you know exactly how many resources and people will be needed to complete a job—and create designs based on those accurate estimations—things streamline beautifully.
Imagine building without having to rely on the less-than-adequate tradesman to cut and install fittings at the jobsite, only to find out that it's faulty—and repeating the process all over again with new material. That's a lot of waste.
Reduce Processes, Labor, & Waste
This methodology—called design for manufacture and assembly—combines two concepts to drastically reduce the waste:
Design for Manufacture: DFM deals with choosing the most cost-effective materials and processes to simplify operations.
Design for Assembly: DFA is a product designing approach that ensures smooth and easy assembly of products—while reducing assembly costs and minimizing operations.
DfMA is the design approach for all factory-manufactured goods. In construction, these can mean fully furnished modular boxes and prefabricated parts like flooring, walls, and anything in between.
In DfMA, we think how buildings can be manufactured like cars—through the Henry Ford assembly line approach. But what if the roles were reversed? The video above gets you thinking… how cumbersome it really is to construct a building vs. a car.
Here's How DfMA Works
Imagine a structural wood panel (such as OSB) being used at a traditional jobsite. A sub contractor will need to manually measure and cut these panels into specific blocks and parts—right at the jobsite—and the remainder goes to waste.
Rethinking Operations: Conversely in manufactured construction (through DfMA)—material and labor usage is planned right from the design stage. The designer creates Revit models of these boards with a cut-list generated for each module, which is used to pre-cut the boards in exact dimensions.

These pre-cut boards are batched together, and each batch corresponding to a specific module is sent to the right place in a modular factory for assembly.1

Simplifying the process and planning materials right from the design stage helps reduce waste and leaves little room for errors.
Reducing Labor: Offsite factories use advanced machinery and robots to automate recurring tasks, keeping only the skilled tradesmen to perform high-stakes installations.
One Size Doesn't Fit All
With all this said, note that DfMA is just a framework. You need experts who understand how to make it work for your unique project requirements.
Working on modular and prefab construction through DfMA on numerous projects, we at BASE4 have mastered our processes and gained significant intellectual property. Our wide network of manufacturers fit every need of any project.
Get in touch now to see how you can make DfMA work for you.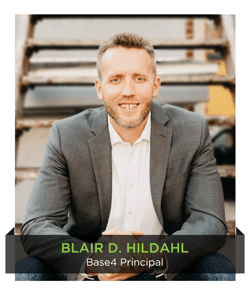 Thank you,
Blair Hildahl
BASE4 Principal
608.304.5228
BlairH@base-4.com