Reading Time:
4
minutes
Hear it from a Lender
AVANA Capital shares what they want developers to know
Lending issues cause developers great concern—especially for projects in the early stages. What do investors and lenders think?
It's important to know that projects are still being funded with the lenders getting more selective.
Still open for business, AVANA Capital is primarily a construction lender and its investors are international sovereign wealth funds and U.S.-based family offices. Since AVANA doesn't leverage their loans, it gives them an advantage against dislocation in the capital markets.
Today, I invited Kyung Kim, SVP of Strategic Growth Markets at AVANA Capital, to address the elephant in the room.
Describing the current state of the economy, Kyung admits that things would be difficult—just like after 9/11—and that we will question the old ways of travel and leisure.
But he's confident that the industry will recover.
Kyung Kim, SVP of Strategic Growth Markets, AVANA Capital
In our eyes, the characteristics of a successful project have not changed. However, there will be a greater emphasis on sponsor equity, construction cost, market location, and brand.

The Challenges
Speaking of the challenges that projects would face, Kyung outlines the below points:
"For projects currently underway, the challenges depend on the market location and the stage of construction. For markets that have construction bans (such as NYC and Bay Area), the impact is tremendous. Obviously, stopping a project in mid-construction has significant cost and time implications. And the ceiling for those implications is uncertain."
From multifamily to hospitality, all developers are looking for quality projects to secure financing. Modular construction might be what you need.
Addressing the upcoming projects, here's Kyung: "The sponsors, for the most part, are moving forward. They are somewhat hindered in the permitting process due to city offices closing, but many municipalities are still working virtually. Additionally, there are some supply chain delays, particularly with FF&E coming from China. But even that is improving. Finally, they realize that they have the benefit of time. The hotel will not open for 18 to 24 months, giving the economy time to recover."
He's right. In fact, we at BASE4 are coordinating with several city officials to push current projects forward and our construction administration team is on top of under-construction projects. Many developers are finding opportunities and looking ahead.
A dual-branded Marriott converted into modular from traditional plans. Marriott and other hospitality giants welcome modular construction with dedicated prototypes.
Trends in Borrowings & Investments
"The risk-averse are sitting on the sidelines. For them, there is too much uncertainty to warrant the risk, especially for loans and equity investments on existing assets," he says.
Hungry for deals, the opportunistic group sees "the current crisis as an opportunity to obtain very favorable asset prices and terms. I think there are many more of the former than the latter."
What it Takes to Close the Deal
As relayed above, because they are primarily a construction lender, and construction gives a benefit of time (18-24 months)—AVANA has better footing and is confident that the economy will recover.
That said, they have to be prudent in their underwriting and take into account the long-term implications of Covid-19.
Modular construction can provide high-quality and affordable housing–not to forget aesthetics.
Construction Methods & Financing Prospects
Does financing have the same prospects for modular and traditional projects—or does one clearly stand a better chance over the other?
It depends, according to Kyung.
Both, stick-built and modular projects succeed and fail—so it comes down to what makes them succeed—"an experienced, cohesive team of a sponsor, architect, GC, modular company (for modular projects), and lender. But this is accentuated in the case of modular due to the integrated, early-decision-making requirements for modular construction."
That said, Kyung believes that modular construction leads to a higher quality building than stick-built when done correctly and in the right markets.
Factory production lends itself to greater quality control and consistency, which in turn, lead to greater budget certainty and better risk control.

~ Kyung Kim

Keeping Projects Alive
"As opposed to being overly-reactive or pessimistic, be opportunistic," says Kim. He further suggests viewing this as an opportunity to:
obtain better pricing from your vendors,
get greater attention and mindshare from them than ever before, and
move forward while many other projects have paused.
Versatile and durable, you can go high with steel modular construction.
"So that in 18 months, you open your doors in an environment where supply will have been constrained. To quote Maya Angelou, the late American award-winning author, 'Hope and fear cannot occupy the same space. Invite one to stay.'"
Architectural possibilities are endless with modular.
Deciding the Next Move
Make the most of this situation. Look for opportunities—even in an adverse market.
If your project is just beginning design or is midway through, head over to this article I wrote featuring a developer/GC and how they're dealing with the situation.
If you're looking to analyze the market to find opportunities, need design and business consultation, or just want to say hi, do reach out—we're helping several parties figure out profitable moves.
And as a parting note, Kyung promotes optimism: "Be positive. Be safe. We are all in this together. So we will all recover together."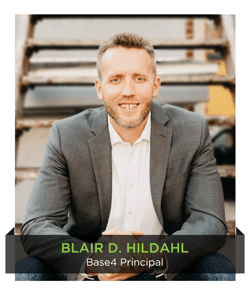 Thank you,
Blair Hildahl
BASE4 Principal
608.304.5228
BlairH@base-4.com