Reading Time:
6
minutes
Bonus: Tim Flacke of Midas Construction shares how they're moving ahead with projects
Resilience is in the DNA of developers. Simply giving up when the going gets tough isn't how they roll.
But it's natural to feel stuck. After all, choosing what to do with your ongoing projects isn't an easy job. Things become especially challenging when a project is underway planning or design with little clarity in sight.
So, for today, I invited one of our clients to give you the first-hand account of what it means to keep pushing through amid this economic climate–especially when it's a new way of building using modular techniques. Together, we're hoping to present a fresh perspective.
A mid-design modular high-rise hotel, which is benefiting from the offsite nature of the project.
In Conversation with a Fellow Developer & GC
Tim Flacke is the Director of Modular Construction at Midas Construction–a part of Midas Hospitality. They have a 168-room and 11-story Residence Inn underway. The hotel project–slated for Clayton, Missouri–is planned to be a modular high-rise. This is the firm's first modular undertaking just like many of our other clients.
Midas pursued modular for three main reasons:
The lack of skilled tradesmen availability
Small urban footprint of the project with little to no laydown space
Faster project completion and better schedule predictability
Tim Flacke, Director of Modular Construction, Midas Construction
The workforce uncertainty will be mitigated by off-site construction and allow us to maintain schedule certainty.
Modular Construction: Solving Problems During Tough Times
The economy was robust at the time of the project's conception—but in a fortunate coincidence, going modular gives Midas Hospitality a leg up when it comes to labor issues and other looming onsite risks—especially in this economy.
By shifting construction to a factory, the developer is no longer responsible for on-site workers and potential hazards. Factories, on the other hand, have a controlled environment for workers to maintain hygiene and social distancing—something we can't say for the typical jobsite.
Finished modules of Residence Inn guestrooms as they would come out of the factory.
Keep Going Despite the Challenges
Discussing how their project operations are affected due to the pandemic, Tim acknowledges that the economic climate is affecting brand and local building jurisdiction approvals. Material lead times also increased and—as a result—the pre-construction activities are extending. The economic situation has hit the construction industry hard and many subcontractors have reduced staff due to local orders, but—on the bright side—that hardly matters in this case because offsite construction mitigates the workforce uncertainty. The offsite process, Tim says, would "allow us to maintain schedule certainty."
Discussing how their project operations are affected due to the pandemic, Tim acknowledges that the economic climate is affecting brand and local building jurisdiction approvals.
Discussing how Midas keeps building, Tim shared practical steps, which any developer can translate into their situation.
Continuing design and pre-construction activities to keep focused on moving this project forward.
Pushing the start date a couple of months in order to use existing capital to keep more employees working through this pandemic.
Going modular should reduce the overall schedule by 30-40% as well as give more schedule certainty by constructing two-thirds of the project in a controlled facility.

~ Tim Flacke
Steps for Your Upcoming Projects
As a final note, Tim shares two tips for fellow developers going through the planning or construction phases:
Take your time in the planning process, the extra effort upfront will lead to schedule and budget certainty.
If you're working with a hotel brand, make your model room design a top priority, getting custom materials ordered and your room built ahead of primary procurement.
I agree with Tim. The time you invest in the planning process pays off during construction. That's why it's important to carefully consider all the options before you're too far along in the process.
Determining module dimensions based on freight and local restrictions is essential.
The Way Forward
Whether your project is under design, permitting, or construction—keeping a solutions-based approach and open mind will help. Considering a 14-month period until your project opens for business, you wouldn't want to miss out on grabbing the market share—because things are going to get better.
We're all facing similar difficulties, but issues like social distancing, labor unavailability, and murky schedules all can be addressed by choosing offsite construction. For your projects in the mid-planning stage, we can help you convert them to modular-compatible drawings and guide you throughout the project completion.
It all comes down to adopting methodical, thoughtful, and well-planned processes. The developers who agree with this mindset can have a very easy shift to improved construction methods—like prefabrication and modular.
If you want your project to keep going strong, please reach out. I'll be happy to discuss how your project can earn good profits when the economy starts moving again.
Stay safe and keep moving forward!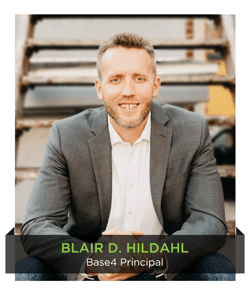 Thank you,
Blair Hildahl
BASE4 Principal
608.304.5228
BlairH@base-4.com