Reading Time:
5
minutes
Switching to Modular
Here are some considerations and solutions
You've been hearing a lot about modular these days. But when exactly is a good time to go modular—if at all?
We recently had a dual-branded Marriott convert to modular from traditional design. Taking this opportunity, today I share considerations about when to go modular in your design process. Read on!

Contents:

Reasons for Switching to Modular
The projected traditional construction timeline was stretching out for an ongoing dual-branded Marriott.
Our client wanted a better solution to help fuel growth with faster project delivery and save on overall development cost.
This upcoming dual-branded Marriott was converted to modular early in the design phase
Given the circumstances, modular construction seemed like a natural fit.
Marriott International's modular-positive approach was also a big pull.
By switching to modular, our client hopes to develop the dual-branded hotel at a lower cost, 3-5 months faster, with a superior quality end-product.
If your goals align with the above, investigating further might be a good idea. Here are some more advantages of offsite construction.
While opting for modular at the project outset is always the best way to expedite schedules, it's never too late to explore a mid-design modular switch.
Things are hardly predictable in the AEC industry, especially given the current labor market and economy. Many developers realize modular benefits after seeing traditional plans and projected construction schedules.
You may go modular from Day One or even during/after the concept phase—as long as the time required to change design offsets or beats the traditional construction schedule and budget.
I highly recommend saving articles from this series to get the full picture.
There are several reasons to opt for modular, but there are some stipulations. It's best to discuss these with your design team to get a fair idea. Below are the questions you should raise before deciding to go modular mid-design. However, if you're looking for general modular considerations, please read this guide, which I prepared for just that.
1. Is your construction area tight?
Due to the stacking of modular boxes, the building would have double walls—which take up slightly more square footage.
If your construction area is too tight to accommodate this change, you might have to ask an expert whether a modular project would fit.
2. Is your project concept ready?
It's not too late to convert your traditional project into a modular one if the design is still in the concept or early phase.
Our client realized this early enough for us to change direction while it still made business sense.
3. Are your project's construction drawings prepared?
If your project is already designed wholly, switching to modular goes case-by-case. It's best to consult with your architect to get a fair estimate.
4. Do your A/E firm and GC have modular experience?
From experience comes efficiency. And time is a crucial factor when converting to modular.
Make sure your design firm can quickly shift gears while also having a good rapport with modular manufacturers to maximize benefits.
During construction, a GC familiar with modular construction can handle things well to avoid unnecessary roadblocks.
Converting Project Plans into Modular
Having said all this, there's a good chance you have some questions. If modular sparked any interest, here's good news:
If you already have a traditional project in planning, Modz4 can bring experts on board to convert your traditional plans into modular compatible ones.
We have several modular projects currently underway, and our teams are well versed with the design process and challenges.
Our network of modular manufacturers and experienced GCs can ease up the development process for you.
If you're a first-time developer, we are happy to offer consultation throughout the process.
We use advanced BIM, virtual reality, and other technologies to make design experience a breeze for you.
Given your project scope, we might be able to offer you special pricing. Feel free to reach out via email or phone to schedule a complimentary session!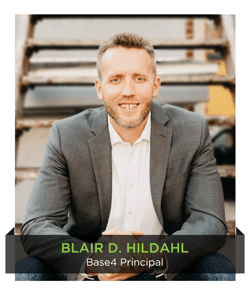 Thank you,
Blair Hildahl
Base4 Principal
608.304.5228
blairh@base-4.com