Reading Time:
7
minutes
Volumetric modular construction is probably the most popular one of the modern methods of construction (MMC).
But when discussing modular construction, I often get more questions than answers. I get it, even some of the seasonal developers could use some guidance sometime.
So first of all, is modular construction worth investigating–or is it just a passing fad? I have compiled some frequently asked questions that I will share in a 3-part series.
Let's begin the first part:
Is modular right for my project?
Ask yourself the right questions to determine whether your project is a good fit for modular.
Am I in a high-priced labor market?
Am I in an urban environment where construction may be a major disruption?
Do I want to fast-track the construction schedule for this project?
Can the bay widths of my units be accommodated with modular?
Am I going to build a ground floor podium on my project even if I use traditional construction?
If you answered yes to any or all the questions above, modular most likely work for you.
Anatomy of a modular building
Do I need a specific type of GC to build a modular project?
This is not a requirement, but something we highly recommend.
Modular projects have unique challenges compared to traditional builds. Working with an experienced contractor will save you a great deal of time, money—and headaches.
Modular construction is gaining traction but is still relatively new; with that comes likely setbacks. The entire project team—including the GC, subs, and design team—must work together to tackle potential issues early to avoid overall schedule delays.
When should I make the decision to go modular?
The earlier the better. Modular projects require an entirely different design mindset and will be planned differently than a traditional project.
It is important to discuss this option with your A/E team as soon as possible. If the decision to go modular is made too far into the process, it is likely that any time saved by modular will be lost in redesign time.
We eliminate this client-side confusion by presenting designs (Concept) at the very first stage so that developers can envision the final product prior to committing to or paying for it.
Do I still need an architect and S/MEP engineer with modular?
A modular manufacturer prepares plans, outlining the specific design of the modular boxes. However, it is the responsibility of the architect and engineers to take these plans, coordinate them with all the other disciplines, and design an overall structure that meets adopted building codes.
To perform these essential functions, we recommend hiring a design firm familiar with offsite construction. Modular design demands sophisticated coordination by an experienced firm.
They will also be responsible to act as the Architect and Engineer of Record (AOR/EOR) for the entire building design.
I've designed a traditionally framed project. If I choose to go modular, will I need a redesign?
Modular projects have double demising walls that typically increase the thickness between every unit bay, thus increasing the overall footprint.
Also, modular units will be limited on the bay width, MEP configuration, and floor-to-floor heights; therefore, these items must all be redesigned.
If your project is still in design, it might not be too late to convert to modular. I prepared this guide for just that.
Modular construction merits its own design considerations, with even the walls having different assembly than their traditional counterparts
What types of modules are available in the market?
You can choose from steel or wood modular units, based on your project needs.
Steel modules are more sturdy and provide better stability for mid- to high-rise projects.
Wood modules are comparatively lightweight and ideal for low-rises.
It's important for your designer to understand the geographical location, code requirements, franchise standards (if applicable), and optimal configuration of design choices to fit your modular project.
What is the cost of modular units?
Cost varies greatly depending on the location, building use (e.g., hotels, dorms, apartments), and franchise requirements, if applicable.
The decision to use wood or steel further determines the cost.
Right now, wood modular construction is—for the most part—cost neutral with traditionally wood-framed podium construction.
We recommend reaching out to the modular manufacturers early, so they can provide you with general budgeting numbers specific to your project.
Does my financing structure need to change for a modular project?
In contrast to the typical construction, 60−70% of your entire construction cost to purchase the modules is needed upfront. This is much different than a traditional construction loan draw, and many lenders will need to be educated on this process.
It's wise to involve your lender during the initial phase if you are considering going modular. Some lenders might need time to figure out lending terms.
The good news is, lender trust is increasing as modular is becoming more common.
We've helped several lenders walk through the modular process to facilitate understanding and trust.
How does modular construction shorten my project timeline?
Modular units can be produced offsite at the same time your team is building the foundation and podium at the project site.
As a result, modular construction can typically reduce build-time for a standard 4- to 5-story, 100-unit building, by three to six months when compared to traditional construction methods.
With that said, the timeline may vary greatly depending on the specific project program and site conditions.
Do you have more questions to determine whether modular is right for you? Ask away!
Next week, I discuss common questions for low- to mid-rise modular construction.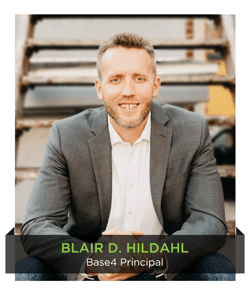 Thank you,
Blair Hildahl
Base4 Principal
608.304.5228