Reading Time:
4
minutes
Modular Construction Part II: How Can Bathroom Pods Speed and Simplify Your Building Process?
In the previous newsletter, I introduced the modular construction method. Last month, I attended the first East Coast Modular Stacking Event, which was dedicated to upcoming developments of Modular Construction in the US market. Please follow the link Should you go modular with your next hotel? As I continue this topic, I would like to share helpful information about modular bathroom pods.
Modular Innovation: The Basics
A Bathroom Pod is a factory made, turn-key bathroom unit- fully fitted and plumbed, delivered to the construction site, and ready to use. The on-site crews simply connect the pods to the main mechanical, electrical and plumbing systems in the corridors and pods above/below. Bathroom pods replace the traditional piece-by-piece assembly of bathrooms, especially valuable for hotel construction projects where there is a large number of repeatable bathrooms in a small space. As seen in the auto industry, efficient production lines result in improved predictability in terms of time, quality of product and cost.
Modular Construction: The Three-Step Process
Design & Production: Bathroom pods are custom designed according to the individual characteristics of each guestroom. Large repeatable components located in a stacked configuration increase the efficiency of installation and connection to mechanical, electrical, and plumbing systems.
Delivery & Installation: Assembled pods arrive at the job sites via truck and are raised to the final floor, moved into final position, and lowered into place without interference.
Final Set & Connection: The finishing stage of the prefabricated shell begins with the installation of plumbing and electrical systems and concludes with testing, cleaning, and quality control.
Benefits
One of the main reasons for choosing bathroom pods is their assembly line production, where individual parts are produced and completed by corresponding trade specialists. This method minimizes the project punch list, decreases waste, reduces material deliveries, and keeps the site clean. In contrast to traditional bathroom construction methods, bathroom pods consolidate more than 10 construction trades into one prefabricated product. The modular bathroom units are easy to lift, place, and connect so that the project developer reduces time and production costs while improving bathroom quality for hotel owners and guests.
Working through the details of bathrooms one time saves developers time and headaches. Instead of trying to coordinate and schedule several crews in the small spaces, bathroom pods arrive at the hotel construction site ready for installation.
Costs
If using bathroom pods fits the demands of your project, you can experience cost efficiency and savings. Bathrooms typically account for at least 6-10% of the capital cost of a hotel, so prefabricating them can mean significant savings depending on the project location, construction type, and construction schedule. Since bathrooms are designed specifically for each hotel type, pod costs vary according to project specifications. Pod manufacturers, such as Old Castle and Pivotek, can provide developers an estimate of the installed cost of each component. For most markets and assembly types, the cost of bathroom pods is currently cost-neutral and sometimes slightly higher depending on the local labor market.  However, as demand increases, mass production should reduce the overall cost.
Bathroom pods may save most in areas where labor costs are currently high.  In addition, significant added value often results from the high level of quality and efficiency realized through modular assembly. The consistent quality in modular innovation can produce faster ROIs, shorter financing terms, and greater overall production bandwidth. These benefits have propelled bathroom pods into becoming a new hotel design standard.
In my next newsletter, I will discuss full modular guestroom units. I am glad to answer your questions and respond to your feedback. Please leave your comments below or contact me at BlairH@base-4.com 
Thank you,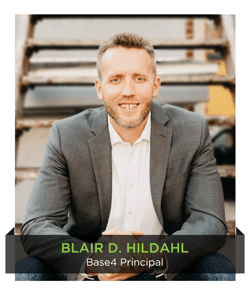 Blair Hildahl
Base4 Principal
608.304.5228