Reading Time:
3
minutes
Modular Elevators
I often discuss modern hotel construction solutions, including my earlier series on modular hotel construction (Should you go modular with your next hotel? –  FAQ). Today I'd like to expand on this topic and discuss modular elevators.
Whether it's the faster turnaround time for your next hotel construction or a quick ADA upgrade for an old property, modular elevators can be greatly accommodating. Read below to discover whether it's the right choice for you.
Basics
A modular elevator is a commercial-grade elevator, which comes with a prefabricated structural body containing a steel shaft (hoistway), an elevator cab (e.g., car or carriage), controls, rails, and drive systems—all pre-wired. In other words, a modular elevator arrives fully assembled at a job site where it is to be installed.
Features At a Glance
Constructed horizontally compared to the vertical build of a traditional stick-built elevator, work hazards can be reduced to a great extent.
Ideal for structures ranging from 2 to 15 stories.
Can be custom designed per a project's unique specifications. Manufacturers often offer interior design solutions such as laminates, ceiling styles, reveals, and everything an elevator cab could need.
Installation
A modular elevator typically installs in a day with several additional days required to obtain a permit from the local jurisdiction after testing and inspection. Generally, this is how the installation process unfolds:
An elevator pit is excavated, poured, and anchor bolts embedded.
A completely assembled modular elevator and additional equipment arrive at the job site on a flatbed truck.
With help from a ground crew, the elevator is hooked with a crane, which hoists it into the elevator pit.
Once fitted with anchor bolts and verified to be upright, the fully assembled modular equipment is fixed into the place.
Final services such as electricity, fire guarding, and telephone connection are established, followed by final testing and necessary adjustments.
See below video from Phoenix Modular Elevator outlining the recent installation for a new Marriott hotel in my home state of WI!
In my next newsletter, I will discuss benefits and drawbacks of modular elevators. I am glad to answer your questions and respond to your feedback.  
Thank you,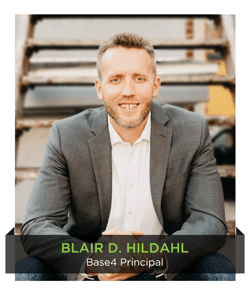 Blair Hildahl
Base4 Principal
608.304.5228