Reading Time:
3
minutes
Should you go modular with your next hotel?
As Base4 partner and representative, I was honored to join Marriott International, OTO Development, Champion Commercial Structures and Le Chase Construction for the first East Coast Modular Stacking Event at the Marriott AC in Chapel Hill, North Carolina last week. I would like to thank Marriott International and especially Jennifer Lund, Senior Director of Global Design Strategies for Marriott, for this distinct invitation, which gave me an opportunity to share my experience and vision on upcoming developments of Modular Construction in the US market. While attending the event I had the opportunity to meet with many leaders and pioneers in the modular hotel industry to discuss both the benefits and challenges they have experienced with modular construction in the hotel sector.  Hearing their personal experiences firsthand was very insightful.
Modular construction can simplify the construction process by utilizing pre-fabricated factory-produced building units, such as bathroom pods and entire guestrooms. Units are designed and furnished on a factory production line, shipped to the site, and connected to the structure. Modular construction has been available for years and remains popular in Europe and Asia because of its many benefits.
In the United States, designers, general contractors, and developers have given modular construction mixed reviews due to potential complexities and lack of familiarity with its products. However, since modular construction is such a good fit for the hotel sector due to its repetitive construction, some US hotel chains, such as Marriott, are determined to figure out how to best leverage modular construction practices to reduce the construction schedule and costs. Importantly, developers must consider cost/benefit analyses before determining whether and how modular construction may benefit each individual project.
The below video highlighting the first few modular pods being set at the Chapel Hill AC is a great trailer to our upcoming series on this topic. In the next several newsletters, I will present what Base4 knows and continues to learn about the potential benefits and pitfalls of modular construction units, including both hotel bathroom pods and full modular units.
  Sharing useful information always prompts our clients to ask interesting questions. I and the Base4 team are glad to answer your Modular Construction questions and share specific information for your hotel project. Please leave them below as a comment or contact me at BlairH@base-4.com

Thank you,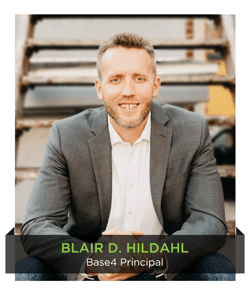 Blair Hildahl
Base4 Principal
608.304.5228