Reading Time:
6
minutes
How can Emergency Medical Utilize Prefabricated and Modular Construction?
Highlights: Calls for Action

The Moment
We have all been experiencing the panic and severity of the COVID-19 crisis. A study by the Harvard Global Health Institute indicated that even moderate spread of the virus means 40% of our hospitals will not have enough beds to manage the health crisis.1 Should the crisis be more critical, as many as 800% more beds might be needed.1
A hospital team in Nashville is calling for the parking garage to be converted to patient areas, lining up beds in the garage.2 Other leaders like New York Governor Andrew Cuomo and Senator Elizabeth Warren (D-Mass.) are asking the Army Corps of Engineers to build temporary medical structures to meet the need for emergency medical space.3,4 They've also called for transitioning dorm rooms or other structures for the same purposes. With all the rush, however, cumbersome building regulations and permitting processes mean such creative solutions may not be mobilized in time.
The Solution
Considering the critical need, numerous regulatory agencies at the federal, state, and local levels are beginning to waive certain procedures to expedite the helping process. In fact, some states have already issued the Certificate of Need in order to add beds quickly to unused areas of current hospital facilities. Other states have given hospital leaders authority to place beds in hallways or other spaces to ensure care to the growing patient lineup.3
Other solutions come from our private sector, where cutting-edge modular construction methods have been suggested. Members of the Modular Building Institute (MBI) have advocated the usefulness of modular to problem-solve the lack of hospital space. They discuss modular's ability to go up quickly to create temporary medical clinics and spaces to add medical teams and beds. The MBI Government Affairs Director Jon Hannah, is working closely with the National Governor's Association to dispense information for the utilization of modular during the crisis.
"BASE4 is working in conjunction with the Modular Building Institute and together, we are committed to addressing this crisis head-on through a larger effort," shares the MBI Executive Director Tom Hardiman.
Where We Come In
As modular experts and members of the MBI, BASE4 knows that quick-build prefabricated construction and modular methods can meet the current needs and provide much needed hospital space. But we must move quickly! BASE4 has always been adaptable and ready, poised to build any structure—anytime, anywhere. Now we choose to leverage our experience to fight the current crisis with the following weapons:
Emergency medical triage units that are ready for purchase and shipping
Expert architects and engineers in prefab/modular
A global team, working from home and maintaining a 24-hour work clock
Proven speed and quality with years of BIM design experience
Our servant leadership model and reputation for problem-solving—no matter the landscape or challenges
BASE4 also has experience in redesigning existing structures, such as motels and other exterior entrance properties, which could meet the need in providing temporary structures. As a powerful example of creative problem-solving, an Ecolodge in Washington state is already housing patients with COVID-19 and providing shelter and care at this critical time.5
BASE4's expertise in hotel redesigns and history of working with the largest hotel chains in the world means we can transform an existing hotel into a temporary medical facility.
Contact us immediately if you want us to FIND a hotel for you to convert, or if you HAVE a hotel to convert.
What We are Already Doing
BASE4 has led the hospitality industry in designing hotels across the world using both, traditional and modular designs. We know how to build rooms for beds and short-term guests. We also have immediate access to modular units. Who better than us to jump in and help?
BASE4 is now exploring how to design more prefabricated designs to fulfill immediate, medium, and long-term needs that may arise from the Coronavirus pandemic. So far, we are collaborating with healthcare professionals, modular manufacturers, and developers to provide real-time solutions that work—and work fast.
In our conversations these past few weeks, we've identified modular and prefabricated solutions to provide for the following resources:
Immediate emergency medical triage units available now
Emergency screening centers
Triage isolation facilities
Temporary ICU centers
Testing centers with drive-through service
We have access to and design these types of structures quickly using DfMA and offsite prefabrication principles.
At times of crisis, leaders rise to solve problems and meet the immediate need. We, at BASE4, join you in caring for your community during this challenging time. We also stand ready to fight with you in the best way we know how—designing and providing spaces with beds to satisfy the critical shortage of emergency medical facilities.
Contact us immediately if you are considering modular hospital rooms.
Reach out any time if you want to join me in brainstorming ways we can meet the need together.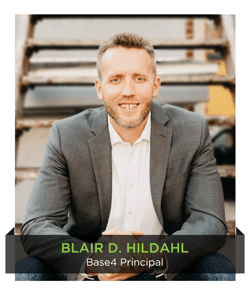 Thank you,
Blair Hildahl
BASE4 Principal
608.304.5228
BlairH@base-4.com

COVID-19 Level 1 Screening & Level 2 Triage Isolation Facility

Sources:
1. https://www.nytimes.com/interactive/2020/03/17/upshot/hospital-bed-shortages-coronavirus.html
2. https://www.newschannel5.com/news/newschannel-5-investigates/worries-about-hospital-capacity-drive-covid-19-response
3. https://www.governor.ny.gov/news/video-audio-photos-rush-transcript-during-coronavirus-briefing-governor-cuomo-issues-executive
4. 2020.03.18 Letter to Trump re Army Corp of Engineers building conversion for COVID19 patients
5. https://www.fastcompany.com/90477386/luxury-resorts-tiny-homes-rvs-how-architecture-is-adapting-in-the-age-of-coronavirus