Reading Time:
3
minutes
Virtual reality (VR) technology is taking both the architecture—and hospitality— industries by storm! From the old school paper-based drafting to relatively modern digitally produced 2D renderings, architecture has evolved into something much more lifelike. So what is VR after all? And why does it matter for your hotel? Here we go!
A Different World
Virtual reality is a technological innovation that imitates another environment, making you feel as if you are physically present in that space. VR works by fusing audiovisual elements (image, video, sound) with your other senses (such as touch).
A special VR headset enables you to walk around the simulated setting and visually experience the space. This technology brings 2D renderings to life in a grand fashion.
Device screens can also offer 360° panoramic views of the space.
A New Dimension to Hospitality
Imagine walking around the lobby of your unbuilt hotel, viewing every detail and taking note of any needed alterations. This is now possible for your lobby or any other part of the building! VR is a promising innovation with many advancements on the way; moreover, the technology is sophisticated and functional enough to meet your hospitality needs today.
Click below to watch a quick demo of how VR works>>
Here's why you should choose architects that offer the VR package:
The Next Big Thing: All major hotel brands—including Marriott, Hilton, and Best Western—offer VR experiences as a sales tool for potential and existing guests. This trend is becoming more refined and widespread.
The Digital Twin: It makes a world of difference when you can experience your hotel inside and out—before the construction ever begins. A true-to-scale digital twin of your upcoming property not only sounds exciting but also may help avert mishaps!
The Guest Magnet: Offering a virtual hotel tour to potential guests via the website or social media can transform a casual inquiry into a reservation.
Base4 creates lifelike VR images for our clients in meticulous detail. If you wish to know more, feel free to reach out! Meanwhile, have a look at some of our VR samples (we recommend a VR headset but your device screen will also work!):
Click any image to see VR in action!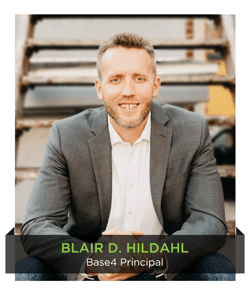 Thank you,
Blair Hildahl
Base4 Principal
608.304.5228