Reading Time:
3
minutes
The pandemic has shifted builders' views toward offsite construction, but there's more to the story! The increase in builder interest in offsite construction methods has also been driven by supply chain challenges and the shortages and rising costs of skilled labor. Offsite construction is here to stay, so don't miss the chance to jump in on the innovation and opportunities.
The markets will continue to favor easy-to-install, pre-fabricated, and pre-finished materials as skilled labor shortage continues.
In 2020, the North American region dominated, accounting for about 37.50% of the offsite construction market.
Recent challenges in the construction industry have created opportunities for innovative thinking and new ideas. Almost one in five (19%) say they look at offsite more favorably because of the pandemic. That might not seem like a significant change, but it's huge for the construction industry!
Top Three Spots Where Builders Are Choosing Offsite Construction
Builders plan to adopt offsite construction methods for some tasks on the jobsite but not others. Here are the top three places where builders are choosing offsite:
BASE4 | Helping Developers Build Faster
We have the expertise, technology, and processes to guide clients through every stage of their project—anywhere they are. Our team works with developers and general contractors to rethink traditional building methods by infusing innovative technology, forward-thinking design, and offsite manufacturing principles to build projects CHEAPER and FASTER!
Our commitment to advanced innovation means our team brings the best of prefabrication, offsite, and modular methods—reducing costs and eliminating inefficiencies.
Check out STONEPILEllc—The Online Construction College, the only institution of higher education dedicated 100% to construction innovation and education.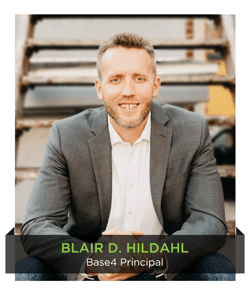 Thank you,
Blair Hildahl
BASE4 Principal
608.304.5228
BlairH@base-4.com


Source:
1. https://constructutopia.com/offsite-construction/offsite-research-2021?source=UtopiaNL&oly_enc_id=5689F9278256C3Y