Reading Time:
3
minutes
"My architect is too slow to respond!"
"My design schedule just got extended!"
"Three more months to permit!"
Developers, constructors, and builders hear about delays every day, and we understand your pain. After all, time is money, and in today's high cost environment, unnecessary delays are not an option!
Conventional thinking only increases costs, schedules, and waste. 'Business as usual' is no longer good enough.
This Is Where BASE4 Comes In!
We help you build efficiently because we design faster than everyone else.
Faster Permit Drawings = Better ROI
How Do We Move Faster?
We are architects & engineers rethinking the way buildings get built. We have a global team working around the clock—200 engineers, architects, and designers ready to move your projects through to completion—with fewer coordination errors and faster speed.
Our team members are experts in design, we have experience in every state and have all S/MEP engineers in-house—ensuring quality and speed-to-market.
We perform all design services in-house, which include architecture, structural engineering, MEP engineering, interior design, 3D BIM visualization, and construction administration.
As a recognized leader in the A/E technology domain, all BASE4 divisions exclusively use Autodesk Revit to create detailed building plans in 3D—and even virtual reality!
Our commitment to advanced innovation means our team brings the best of prefabrication, offsite, and modular methods—reducing costs and eliminating inefficiencies.
Take a look at some of our latest projects:
---
Here at BASE4, we are constantly keeping our clients and developers informed of the latest trends in the market. Check out our website https://www.base-4.com/.
Check out STONEPILEllc—The Online Construction College, the only institution of higher education dedicated 100% to construction innovation and education.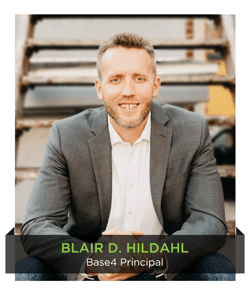 Thank you,
Blair Hildahl
BASE4 Principal
608.304.5228
BlairH@base-4.com