Reading Time:
4
minutes
The housing crisis is not slowing down, and developers continue to focus on the multifamily market!
Multifamily investment volume increased by 34% quarter-over-quarter in Q2 to reach $52.7 billion, according to CBRE.
Apartments accounted for 36.6% of commercial real estate transactions in the first half, making it the top performer.
To accommodate for the demand, developers are choosing modular housing, a potential solution to the housing crisis.
Prefabricated, offsite, and modular construction methods are trending! New modular and offsite manufacturing factories can be seen all over the US.
The Global Modular Construction Market size was estimated at USD 108.59 Billion in 2020 and expected to reach USD 116.02 Billion by the end in 2021, at a Compound Annual Growth Rate (CAGR) 7.17% to reach USD 164.61 Billion by 2026.
Construction Is Changing
A new generation of developers has entered the market! They understand construction technology and apply the principles of manufacturing, standardization, logistics, and assembly to getting the job done.
With the help of a crane and teamwork, the placement of 342 multifamily units in this modular development in Midland, TX shows how construction technology can speed up the construction process.
*Pictures courtesy of Z Modular
Benefits of Modular Construction
Modular projects can adapt to the ever-changing needs of the construction industry. While not every project is right for a modular delivery model, there are tremendous benefits for those that do check all the boxes.
Reduced construction schedule:  Delays from weather and coordination can be predicted and controlled since everything is constructed in an offsite, indoor facility.
Fewer skilled workers: The installation of electrical, plumbing, and heating services in modular buildings can be largely carried out in the factory with final connections made on-site, doubling up productivity.
Parallel Site work: Modular units can be produced offsite at the same time your team is building the foundation and podium at the project site.
Less material waste & higher quality control: Precision cutting and meticulous assembly on the factory floor ensure that materials are used efficiently and accurately.
Improved sustainability: Good levels of thermal insulation, efficient use of materials, and construction vehicles.
Multifamily developers are noticing that traditional build is too slow and unreliable right now. Modular is the way to go and BASE4 is here to help!
Check out STONEPILEllc—The Online Construction College, the only institution of higher education dedicated 100% to construction innovation and education.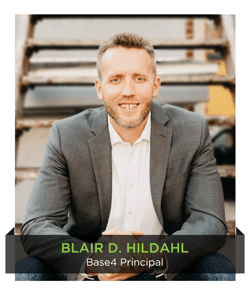 Thank you,
Blair Hildahl
BASE4 Principal
608.304.5228
BlairH@base-4.com


Source:
1. https://www.multihousingnews.com/post/modular-construction-and-the-future-of-development/
2. https://www.businesswire.com/news/home/20210805005533/en/Worldwide-Modular-Construction-Industry-to-2026—Rising-Demand-for-Modular-Construction-in-the-Americas-Presents-Opportunities—ResearchAndMarkets.com
3. https://www.globest.com/2021/08/09/multifamily-investment-reached-a-record-53b-in-q2/