Reading Time:
7
minutes
Our recent groundbreakings and completed hotel projects
It's been a busy and productive year so far at Base4. First of all, Base4 introduced a mixed-use and multifamily design division Casa4, which has been received well! Paired with our modular expertise at Modz4, we are now stronger and bigger than ever.
With that, the third quarter brought several project milestones that I'd love to share with our readers. We had several Marriott, IHG, Hilton, and Hyatt brands either completing or commencing construction work.
A big congratulations to all project stakeholders!

Contents:

Between July and September, Base4's #Open4Business project stack got bigger with the addition of brands like Aloft, Fairfield Inn & Suites, Hampton Inn, and Holiday Inn Express & Suites.
All these hotels are now accepting guests and we couldn't be prouder!
Aloft Cincinnati West Chester
Southwest Ohio's first Aloft stands tall on a 2-acre site. The hotel brings 125 guestrooms to West Chester, to serve the growing startup community in the area.

Fairfield Inn & Suites Minneapolis Shakopee
The 129-key hotel opened in the first week of September. This beautiful property features an indoor swimming pool and is located close to popular tourist attractions.

Hampton Inn Cedar Falls
Designed to blend into and elevate the feel of downtown Cedar Falls, the 6-story hotel is also the largest in downtown. The Iowa-based hotel brings 130 guestrooms, an indoor pool, and a large outdoor patio, among other amenities.

Holiday Inn Express & Suites Beaver Dam
Beaver Dam, Wisconsin's first-ever IHG opened recently in September. The hotel features 71 rooms and suites with a catchy exterior. It broke ground last November, opening for business in less than a year.

SpringHill Suites Estero
Sporting a clean and catchy architecture, SpringHill Suites brings five stories and 100 suites to Estero, Florida. The soon-to-open property offers an outdoor pool area to soak in Florida sun.

TownePlace Suites Cedar Rapids Marion
This 88-key hotel has been serving guests in Marion, Iowa. The pet-friendly extended-stay offers an indoor pool, outdoor patio with fire pits and barbecue grills among other amenities.

Along with remarkable hotel openings, Base4 was thrilled as four new hotels broke ground in Q3. From new brands like avid to a dual-branded Hilton and a fully-customized Hyatt House, these are the projects to keep an eye on!
Hyatt House Tampa
The upscale extended-stay Hyatt will be a truly unique hotel, featuring fully-customized interiors. Hyatt House Tampa will have 145 rooms and a colorful outdoor pool patio. Base4 is thrilled for its customized design, architecture, and engineering solutions to materialize!

Dual-branded Home2 Suites + Tru Downtown Milwaukee
The 6-story dual-branded Hilton is rising in downtown Milwaukee. This project brings 215 rooms divided between Home2 Suites and Tru by Hilton. It is a special project that brings three hotel brands together; more details in the next project below.

Holiday Inn Express Downtown Milwaukee
Coming together right next to the dual-branded Hilton (above), the 6-story Holiday Inn Express brings 115+ rooms to Milwaukee downtown. These three hotels are rising up quickly and will elevate the downtown feel once complete.

Avid Savannah
This 95-key Avid broke ground this August in Savannah, Georgia. Once completed, the hotel will feature the brand's signature pop colors, a dynamic entranceway, and an outdoor pool. Avid is growing quickly as one of IHG's younger brands.

TownePlace Suites Ironton
With construction started in August, five stories are rising up in Ironton, Ohio. The 109-key extended-stay is spread in a 2+ acre site and will bring 35+ permanent jobs.

Dual-branded Hilton Garden Inn + Homewood Suites Broomfield
This dual-branded Hilton hotel is set to bring a combined 220+ rooms and suites to Broomfield, Colorado. Five stories are coming up in the 1.74-acre site.

Holiday Inn Express & Suites Moundsville
Five stories are stacking up in Moundsville, West Virginia. This Holiday Inn Express & Suites will offer 123 rooms and an indoor pool.

In addition to those summarized above, we have tens of other hotel projects in various construction and design stages. Follow us on LinkedIn to get a regular summary of jobsite updates and the latest of our projects.
Developing any projects? Feel free to reach out to discuss how we can help you!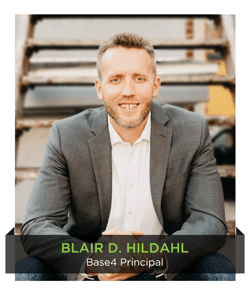 Thank you,
Blair Hildahl
Base4 Principal
608.304.5228
blairh@base-4.com