Reading Time:
3
minutes
New apartment designs for a new era
We're living in a whole new world, and your next multifamily project must follow the new rules of living. People are living, working, and schooling in their homes with the need to keep spaces sanitized, separate, and convenient for living healthy and well.
Multifamily designs for the new normal
The COVID-19 pandemic is forcing us to find safer and smarter ways of building homes. The demand for high-quality housing is continuing to rise and BASE4 is here to help.
Here's what you can do:
Add desk areas. Everyone is working at home, so you need separate work/study areas with ample plug-ins for everyone's devices.
Increase storage. It is essential to expand the storage area for holding food, goods and cleaning supplies that will be needed during self-quarantine periods.
Add outdoor spaces. Create an ample patio and outdoor areas for nature breaks.
Use simple-to-sanitize materials in the apartment for that easy clean.
Sanitize the air. Consider using HVAC systems that slow the spread of viruses and germs.
Separate apartment entrances. Design individual entryways instead of common lobbies.
Must-Have Design Updates for Common Areas
Keep your multi-family building safe from contaminants in common areas, such as laundry, trash/recycling, and bike storage rooms. Here's how:
Install touch-free door openers.
Add a sink for handwashing by entryway doors.
Replace trash, recycling bins, and other communal items with equipment that is made of easy-to-clean materials.
Limit occupants based on the square footage and social distancing guidelines.
Perform regular cleanings.
Disinfect equipment such as washers, dryers, and bike pumps frequently.
Require the use of masks.
Provide hand sanitizing stations and cleaning supplies.
Make home a safe space for living, working, and schooling.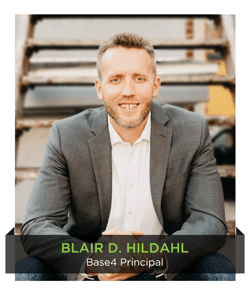 Thank you,
Blair Hildahl
BASE4 Principal
608.304.5228
BlairH@base-4.com