Reading Time:
3
minutes
Offsite construction is considered the future of the construction industry. Still, you might be wondering if it fits your next project.
One very popular offsite delivery method for urban apartment projects is modular over podium. This is a great option for many locations. Find out more below!

Podium Design in Brief
Podium buildings are comprised of multiple stories of light-frame construction (wood or cold-formed steel) over one or two levels of concrete podium construction. Typically, the concrete podium levels consist of parking, amenity, or mixed-use space with apartment units above. Podium construction is a great way to maximize the number of stories, increase unit density, and ultimately lower construction costs of urban developments.
Podium with Modular
In traditional podium construction, the concrete podium must be built before the start of the light-framed apartment floors. However, this all changes when modular construction is introduced as the modular apartment floors can be built in a factory in parallel to the podium onsite.
In the case of modular over podium design, modular units stacked on a podium allow for both on-site traditional and off-site prefabricated processes. This hybrid process enables you to double-time your build.
Up until the 2012 IBC version, podiums were limited to only one story above grade. The 2015 version of the IBC increases these limits.
Benefits of Modular over Podium
Time-Savings
Higher Density
Reduced Labor Costs
Faster Construction
Enhanced Sound Insulation
Increased Usable Space
Greater Cost Certainty
Convenient Tenant/Amenity Parking Access
Minimized Site Disruption
If you are interested in modular over podium design, don't hesitate to reach out. Modular construction offers many advantages in various areas of the building process. If you want more technical details on podium design, check out this article for code regulations, fire safety, and construction types.
As always, Stonepile Construction College is keeping up with all these construction solutions. Feel free to contact me if you have any questions.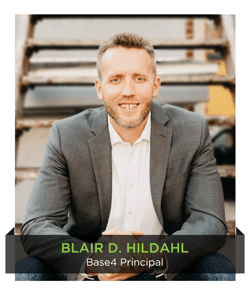 Thank you,
Blair Hildahl
BASE4 Principal
608.304.5228
BlairH@base-4.com