Reading Time:
4
minutes
We have spent the last month digging into prefabrication, offsite, and modular solutions, including volumetric modular, bathroom pods, and panelization. Still, you might be thinking that you want to use offsite construction to solve some very specific problems. No problem! Sub-assemblies and components can be designed to fit your needs, manufactured offsite, and delivered to your next multi-family project.
What are Sub-Assemblies & Components
Prefabricated sub-assemblies and components are parts of the building that are made in a factory for use on site to improve the construction process.
Many different component systems can be built and assembled offsite. The most common are floor cassettes, roof cassettes, prepackaged kits, stairs, Multi-Trade Racks (MTRs), and modular elevators.
Larger components can be incorporated into either conventionally built or Modern Methods of Construction (MMC) dwellings.
The Multi-Trade Prefabrication process allows multiple building components to be constructed in an offsite, temperature-controlled environment simultaneously with the building structure and site work.
Projects with complex but repetitive elements, such as vertical and horizontal mechanical/electrical/plumbing (MEP) systems, patient rooms, bathrooms, clinical spaces, and building envelope systems are extremely well-suited for multi-trade offsite prefabrication.
Numerous offsite elements are possible, but here are the two that might offer the best solutions for your next multi-family project:
Multi-Trade Rack Prefabrication (MTR): These are modular structural frames with a custom assembly of standardized MEP components. The trade-racks consist of the rack structure, cable tray, electrical components, HVAC ductwork, piping, insulation, and sometimes framing and drywall for special installation circumstances.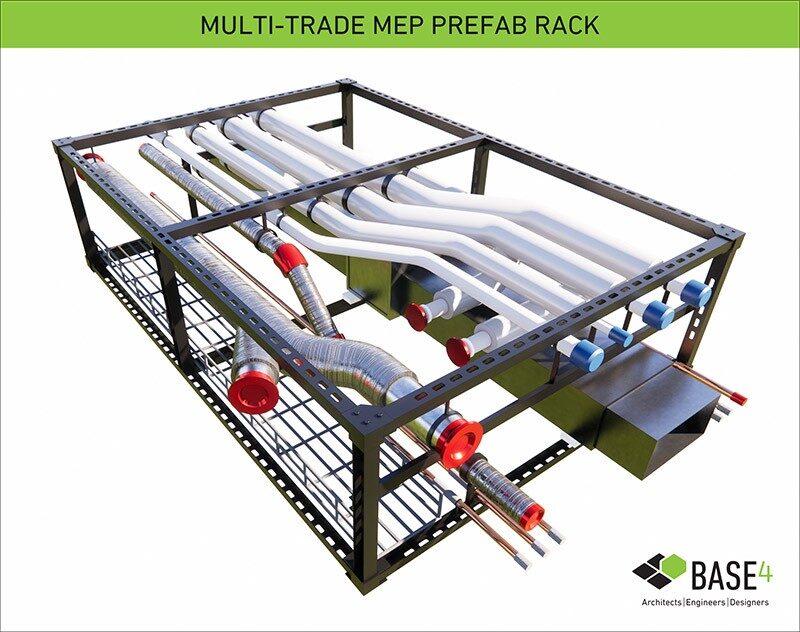 Modular Elevators: Modular elevators are standard commercial elevators installed into a prefabricated structural steel hoistway. The welded steel hoistway structure fully contains the elevator car, rails, controls, and drive system inside. It is sheathed with materials to meet the building requirements. The modular elevator is then trucked to the site, lifted by crane, and set into place in the elevator pit. Once installed, it functions exactly like a site-built elevator and is serviced the same way.
Benefits:
A production-line system reduces labor by 75%.
Product quality is much easier to control. Contractors are highly skilled and trained to ensure that assemblies are manufactured precisely to specs and are consistently defect-free. Any production issues or problems will be identified and resolved at the source.
There is less traffic congestion by reducing onsite labor and material deliveries.
Typical overhead work, including welding, is performed at "bench height" where crews assemble components in an environment with superior lighting, ventilation, and plenty of room to move around modules.
Since MEP workers control, clean, and organize their work area in an offsite environment, there is less time wasted on site in small, tight spaces.
MEP and finish work are completed concurrently with the building structure—saving you time.
It enables organizations to reduce waste within their own companies by mitigating excess packaging and unnecessary transportation—which helps to reduce costs spent on materials, handling, dumpsters, and transportation.
Multi-Trade Rack Prefabrication is found to be beneficial for large projects with complex and repeating MEP.
With this discussion on sub-assemblies and component systems, I conclude our Industrialized Construction for Multifamily Projects series but don't hesitate to reach out for any IC needs or questions in the coming weeks.
Next week, I shift gears to answer your questions about how HVAC systems are changing to meet the demand for cleaner air and safer spaces in this "new normal."
As always, Stonepile Construction College is keeping up with all of these construction innovations, and I welcome your questions about fall enrollment.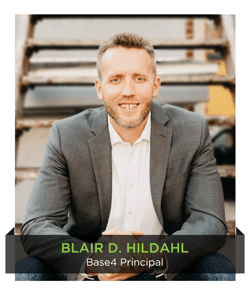 Thank you,
Blair Hildahl
BASE4 Principal
608.304.5228
BlairH@base-4.com


Source: