Reading Time:
5
minutes
Volumetric Modular Construction for Your Next Multifamily Project
Last week, I laid out the benefits of modular and prefabricated construction to increase quality and efficiency for your next MF–as well as the main types of offsite construction that might fit the specific needs of your next project. As a continuation of this series, today we take a deep dive into the benefits specific to Volumetric Modular Construction (VMC).
What is Volumetric Modular Construction?
VMC is a branch of off-site construction in which six-sided modular units are assembled in a factory and later transported to be installed on-site. These self-supporting structure units can be made from most materials including light gauge steel frame, timber frame, concrete, and composites. It is also referred to as modular construction.
Given the assembly line nature of its construction, volumetric modularization is best suited for building projects requiring many similar units, such as student residence halls, hotels, office buildings, and apartments. It also carries the additional benefit of creating a building of greater stability than those of traditional construction.
Volumetric Modular Construction: Saving Time and Money

Modular and off-site construction technologies take most of the production away from the construction site, and slow, unproductive site activities are replaced by more efficient factory processes.
Reduced construction schedule:  Delays from weather and coordination can be predicted and controlled since everything is constructed in an offsite, indoor facility.
Fewer skilled workers: The installation of electrical, plumbing, and heating services in modular buildings can be largely carried out in the factory with final connections made on site, doubling productivity.
Improved schedule: Modular units can be produced offsite at the same time your team is building the foundation and podium at the project site, making timelines more predictable.
Less site disturbance: Modular construction reduces the number of vehicles and heavy equipment required on site, which translates into reduced pollution and less site disruption.
Less material waste & higher quality control: Precision cutting and meticulous assembly on the factory floor ensure that materials are used efficiently and accurately.
Improved sustainability: Good levels of thermal insulation, efficient use of materials, and ease of deconstruction and re-use make VMC a wise build.
Given these advantages, there are a few drawbacks with VMC, including the following:
VMC cannot accommodate larger room sizes or higher ceilings since there are size restrictions when transporting the modular units.
The infrastructure for factory production requires greater investment (upfront) in fixed manufacturing facilities, which can be cost prohibitive.
If VMC does not work for your project, other forms of Industrialized Construction can help, such as panelization or pods (eg., bathroom, kitchen, laundry).
Different Types of Volumetric Modular Construction:
Wood units: Prefabricated wood components used in both light wood frame and mass timber construction can help solve many design and engineering challenges such as material and process efficiency, environmental performance, and life safety.
Framing components include solid sawn dimension lumber, I-joists, structural composite lumber, and parallel chord and pitched trusses.
Oriented strand board (OSB) and plywood are used interchangeably as decking and sheathing material for floors, walls, and roof decks.
Since wood is manufactured in a controlled environment, it also results in fewer air quality issues for those who occupy the finished building.
Steel units: Steel is more durable, has greater corrosion resistance, and a higher resiliency in harsh environments. Modules are manufactured from a series of 2D panels, beginning with the floor cassette, to which the four wall panels and ceiling panels are attached. There are two options that the units are made of:
Red Iron Structural Steel with Light Gage Steel Infill
100% Light Gage Steel
The steel-frame construction allows a large beam span with limited components, as compared to a wood-framed construction. This design results in using fewer raw materials during the construction process, hence reducing overall costs.
Steel building materials can be more consistent than wood in terms of design, quality, and sustainability.
Using structural steel in modular construction projects improves the design for fire resistance.
Next week, I will continue the IC for MF series with a discussion of bathroom pods and how they can expedite the construction process. In the meantime, feel free to contact me if you have any questions.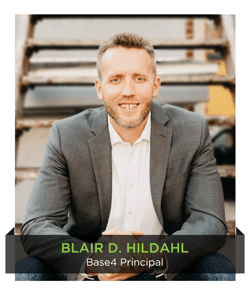 Thank you,
Blair Hildahl
BASE4 Principal
608.304.5228
BlairH@base-4.com


Source: