Reading Time:
5
minutes
The world is changing, and we need to keep up! As the AEC industry is finding its "new normal," industrialized construction (IC) is the way to go.
Multifamily developers who plan to build affordable housing will notice that traditional build is too slow and unreliable right now; IC can help, but it is important to understand exactly how it can work for you.
There are many different types of offsite initiatives you can choose for your next multifamily project. Below are some options you should consider, which we will detail individually in upcoming newsletters.
Volumetric Modular Construction
Wood Unit Production

Steel Unit Production

Volumetric modular is a process of stacking and connecting factory-finished whole module units to form a substantially complete building.
It is a great way to build projects requiring many similar units, such as multifamily, student residence halls, hotels, office buildings, and apartments. Volumetric solutions are fully fitted-out units, which could constitute a room, or part of a room, that can be assembled onsite like a series of Lego bricks.
Volumetric construction is also referred to as modular construction. These units can be made from most materials including light gauge steel frame, timber frame, concrete, and composites.
Bathroom pods bring all the components of a bathroom—complete with finishes and MEP connections—into one finished and coordinated package.
Pods are usually non-structural and used within a loadbearing structure. The enclosure can be of steel frame, timber frame, concrete or composite constructions.
With traditional building, a multitude of trades needs to be organized to realize the bathroom design. Using bathroom pods lowers construction costs by reducing construction time, improving quality, and eliminating the bathroom defects list.
Flat-panel units are built in a factory and later transported to the site to be assembled into a three-dimensional structure or to fit within an existing structure.
The panels can be made of steel, timber construction materials, concrete, or masonry.
Systems can include wall, floor, and roof panels to create the complete structural shell.
There are many different types of panel, with three main types: 1
Wooden Frame Panels: Timber-frame panels may be specified as open or closed panels. These panels are based on a structural framing system, which can have factory fitted windows, doors, MEP services, internal wall finishes, and external cladding.
Cold-Formed Steel Panels (CFS): Similar to the Wooden Frame Panels – with CFS, the wooden framing members are replaced with thin steel sections. The steel sections used here are called cold-formed sections, meaning the sections are formed or given shape at room temperature.
Structural insulated panels (SIPS): A sandwich structured composite, consisting of an insulating layer of rigid core sandwiched between two layers of structural board. The board can be sheet metal, plywood, cement, and polyurethane foam. SIPs are manufactured under factory-controlled conditions and can be custom-designed for any project. They do not rely on internal studs for their structural performance.
Now you might be wondering if other components—like floors, roofs, and even elevator—can be fabricated in the same method as the Bathroom Pods, and the answer is YES.
Larger components can be incorporated into either conventionally built or Modern Methods of Construction (MMC) dwellings.
Sub-assemblies and components can be added to existing brick and mortar buildings or those built using other MMC.2 They are parts that can be constructed off-site and later connected onsite.
Here are a few of the most common components that can be assembled offsite:
Prefabricated foundations
Floor/roof cassettes
Prefabricated dormers
Multi-trade racks
Prepackaged Kits
Stairs
At a modular factory assembly line
We'll be diving into these topics separately and in great detail in the coming weeks. Feel free to let us know which topic you want to hear about first!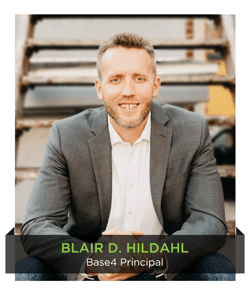 Thank you,
Blair Hildahl
BASE4 Principal
608.304.5228
BlairH@base-4.com


Source: