Reading Time:
5
minutes
Yes, it's not too far-fetched an idea, and I'll tell you why.
The Problems are not New
We can all agree that a typical construction site of our times looks eerily similar to one from 50+ years back. Traditional construction practices–while sustained through the years–are not very efficient, to no fault of a single party.
Fragmented Supply Chain Means Higher Costs
The problem is that the system is broken and fragmented. Aside from taking up hours of rework and coordination, it also drives up the cost of products.
Take lights for an example: The manufacturer sells lights to the regional rep, who then sells to the electrical sub-contractor with a markup. The electrical sub-contractor puts the lights in his bid to the GC with a markup. The GC marks up the whole electrical bid to the owner. At the end of all this, the owner buys a light that has been marked up at least three times.
This same scenario happens for many other products. And then we wonder why we can't control costs on a building project.
Skilled Labor is Elusive & Youth Don't Want In
Less than a third of the construction workforce is made up of people aged between 16 and 34.1 The youth don't want in because this trillion-dollar industry is perceived as a trade or a job–not a career. This contributes to the talent deficit and skilled labor issues with which we are all familiar.
Productivity is Down While Costs are Rising
Arguably the most compelling point, productivity of the construction sector has only gotten more sluggish with time. Not to mention a cumulative (and whopping) 40% rise in the construction costs over the last five years.
We have the system and the means to match the manufacturing industry's output by adopting their model, known as design for manufacture and assembly (DfMA). This principle is used in all kinds of manufacturing, including modular construction and other forms of prefabrication.
How an Offsite Factory Can Help
You may have heard about the UK-based GC Mace Group building an on-site factory on top of an under-construction building in London, which manufactured prefab MEP systems, bathroom pods, and more.2
The point is, this concept can give substantial results. If you're taking several projects in a specific geographic region, an offsite factory may help eliminate the middlemen and save on material overheads  while also letting you work around the construction labor and quality issues—not to mention expanding and offering outbound services to a market full with potential.
The list is virtually endless, but here is a brief list of things you can produce on the assembly line.
Walls, panels, flooring
Poured concrete slabs
Roof assemblies
How a Wood Modular Unit Comes Together in the Factory
Need Help?
If you're interested, we can guide you through the process of how to get a prefab/modular/offsite factory off the ground. Being active members of the Modular Building Institute gives us access to the an extensive network of experts and processes essential to this kind of a venture. We can assist you in the following ways:
I recommend familiarizing yourselves with DfMA and industrialized construction first. I welcome you to reach out–let's make it happen!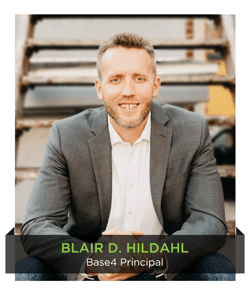 Thank you,
Blair Hildahl
BASE4 Principal
608.304.5228
BlairH@base-4.com

Sources:
1. The U.S. Bureau of Labor Statistics
2. https://www.bdcnetwork.com/mace-group-builds-working-top-under-construction-skyscrapers
All attempts were made to credit sources.