Reading Time:
4
minutes
The construction industry is antiquated. It is inefficient. So, what can we do about it?
To answer this question, our Base4 CEO, Dr. Garry Vermaas, delivered an address to 500 participants of the Hotel Point 2019 conference last week. In a charged up 60-minute session, Garry discussed innovative and practical ways to stabilize your business in a fluctuating economy and prepare for the future.
Dr. Garry Vermaas at HotelPoint 2019
This is the most important AEC discussion of our time. The labor costs are skyrocketing and in the name of skilled labor, a lot of what we hear is wait and compromise. Today's erratic economy discourages many to postpone their projects– but what if there were a better, more efficient, and faster way?
Here are some highlights addressing this possibility:
Current Challenges:
The AEC industry is fragmented
The AEC industry is antiquated
The AEC industry is inefficient
The AEC industry has the wrong metrics
Quality and labor talent have decreased
Construction costs and schedules have increased
Mentor-mentee model does not work
Youth don't want in
A one-minute excerpt from HotelPoint 2019
How to Change the Story
Choose your niche, focus on it, become an expert, innovate, and then branch out.
Replace old technologies such as email and AutoCAD with newer technologies, like Basecamp and Revit. Give your team freedom to suggest new technologies and stay open to their ideas!
Rethink your talent pool. Instead of establishing HQs and being forced to find the talent limited by geographical restrictions, you may want to implement a more flexible hiring model.
We deal with tremendous amounts of data- from hundreds of manufacturers to building materials, FFE, transport and delivery, and the list goes on… In today's age, data-driven decision making will always win. So, recognize the power of data and start building databases, even for little things.
Make processes simple and standardized by creating SOPs (standard operating procedures) for your teams to follow.
Consider modular! Given today's industry climate with rising construction costs and shortfall of skilled labor, modular construction is the way to build. Be open to this technology! *link to our modular article
Artificial intelligence won't arrive with a thud—instead, it will gradually integrate into our routines. In fact, it has already begun. It is wise to start preparing for AI by incorporating the ideas listed above. Early adapters of this revolution are in for an exciting future.
Candids of Base4 CEO Dr. Garry Vermaas and Eric Rowen, President of Development/McKibbon
Base4 Principal Blair Hildahl with Eric Rowen and Dr. Garry Vermaas
Base4 implements each of these pointers to be at the forefront of continuous progress and productivity. When you work with us, you work with a global machine full of ideas and processes. I'd love to know what you are doing to elevate the state of today's AEC.
Until next week!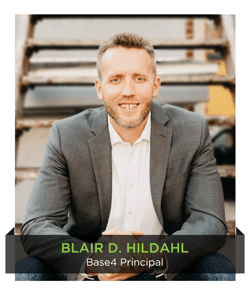 Thank you,
Blair Hildahl
Base4 Principal
608.304.5228