Reading Time:
5
minutes
What is modular construction all about?
We are frequently asked this question. The simple answer is: it's a revolutionary construction method using prefabricated units for building faster and smarter. Also known as manufactured or off-site construction, modular units are produced in a controlled factory setting and shipped to construction sites—raising the construction industry to a truly global scale.
Chances are you know the "what" of modular design, but might be struggling with the "how." We get it!
To answer the how, we decided to do what we do best—embrace innovation and make it accessible to everyone. Today we proudly introduce our new sister brand, Modz4!
What is Modz4?
Modular construction is transforming the brick-and-mortar AEC industry. As the name suggests, Modz4 operates in this burgeoning modular space. But there are many layers to this industry, often overwhelming to understand.
That's where we come in. Think of us as your design and project coordinator, mediator, and operations authority for commercial modular projects.
Specifically, we act as your architect and engineer of record (AOR+EOR), providing the following solutions:
Detailed Documentation: Delivering you detailed construction documents—including Architectural, Structural, MEP, and Interior Design inputs—that are both easy for GC/subs to bid and build.  
Easy-to-read Drawings: Transforming typically confusing and segmented modular project drawings and creating a unified set that is easy for GCs to understand their scope versus what is completed in the factory.
Form + Function: Engineering the total functionality of the mechanical, electrical, plumbing, and structural systems.
Production Process of A Modular Unit
Compliance & Approvals: Ensuring compliance to both codes and franchise requirements and obtaining permits and approvals from local, state, and other governing authorities.
Manufacturer Communication: Coordinating with the modular manufacturers to ensure that modular units meet any client and/or franchise requirements.
Design: Designing common areas such as entryway, lobby, bar, market, restaurant, rooftop, and outdoor spaces with our team of senior architects, engineers, and interior designers.
Smooth Transition: Seamlessly integrating factory-built modules with traditional onsite construction through good design and easy-to-read plans.
The Craning Process
Awareness: Educating team players (GC, subs, vendors, lenders, city officials) on the challenges and nuances of modular construction so that common modular missteps are avoided.
Plan Coherence: Working closely with modular manufacturers to ensure 100% coordination between modular factory shop drawings and permitted construction drawings.
Talent Improvement: Continually training our in-house structural, mechanical, plumbing, electrical, and lighting engineers alongside the Modz4 team of senior architects- all who specialize in modular design and construction.
The Modz4 Team
Behind Modz4 is a global talent pool of tech-savvy, innovative forward-thinkers. Just as with Base4, Modz4 is home to proactive team leaders, project managers, engineers, architects, and designers.
CMO Blair Hildahl and CEO Garry Vermaas Inside a Modular Unit
Our visionary CEO Dr. Garry Vermaas sits at the helm of Modz4 with the rest of our relentless executive team, consisting of Chief Financial Officer Adam Ginsburg, Chief Production Officer Vijay Rathod, Chief Leadership Officer Dr. Jodi Vermaas, and myself as Chief Marketing Officer. Together we lead the global team according to the firm's 4 core values of humility, honesty, respect, and fun.
The Modular Shift:  Product, Not Service
The AEC industry offers services—but does it have to? The service-oriented business model heavily relies on manual work and outdated technologies, performed and operated by contractors who often prefer to do things the old way. It is, of course, a highly inefficient approach.
To achieve 100% efficiency, the industry requires a product-focused model, which measures production not in hours, but according to efficiency and quality. It requires a model that can attract young and innovative talent. It requires a model with the flexibility to fit the growing number of technological advancements.  Enter modular, enter Modz4!
In this economy, modular is the way to go, and we are right here to walk you through the transition!
Got questions? Let's chat!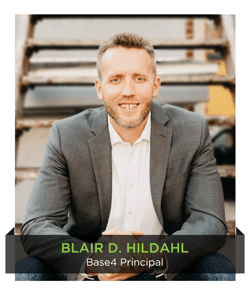 Thank you,
Blair Hildahl
Base4 Principal
608.304.5228