Reading Time:
2
minutes
Thanks to technology today, developers are finding new ways to build using prefabricated, offsite, and modular solutions. Unfortunately, a lot of developers hesitate to go modular due to fears of room-size limitations or a "boxy" design, but volumetric modular design does way more than micro-apartments!
Here's the great news: Multi-bedroom units are still an option with modular. You can have both the efficiency and cost-savings of volumetric modular—plus your spacious design.
Making the modular area bigger
Modular units can be combined to create larger spaces. Below you can see how various configurations of the modules can form a variety of functional apartments. These are individual modules combined to create more spacious dwelling units.
The final touches for a spacious design
Choosing the correct finishes, such as colors on the wall, the correct type of flooring, and functional furniture—will help the space feel even bigger.
Remember that modular prefabrication helps off-site manufacturing of modules and on-site assembly by improving the construction efficiency, safety, and productivity. Modular units are ideal for multifamily projects thanks to the endless options that can be created. Next week I will talk about strategies for reducing COVID for multifamily projects.
Don't hesitate in contacting us for all your modular needs and check out STONEPILE for all the latest in construction innovation.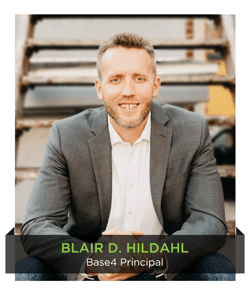 Thank you,
Blair Hildahl
BASE4 Principal
608.304.5228
BlairH@base-4.com