Reading Time:
4
minutes
Base4 is thrilled to announce the appointment of our first female executive, Dr. Jodi Vermaas, as Chief Leadership Officer (CLO). This strategic move was commissioned by visionary CEO, Dr. Garry Vermaas, to solidify and expand Base4 as a global force in the A/E industry.
 
Accomplished Leadership
A wife, mother of 12, licensed mental health counselor, counselor educator, altruist, published author, researcher, and executive coach, Dr. Vermaas exemplifies the multi-dimensional leader. She has been implementing leadership initiatives within the organization for the past two and a half years, as Director of Leadership Development and Executive Coach. She has transformed a typical HR unit into a power-packed talent development incubator. Her dedication to support, accept, develop, and train all Base4 team members—through our core values of Humility, Honesty, Respect, and Fun—is substantial. Dr. Vermaas has trained and appointed more than 40 directors and team leaders and strategically added 165 new team members, two new geographical offices, and one new department to the Base4 Team.
Oriented to the Future
Dr. Vermaas has a relentless vision for Base4. "My goal is for Base4 to outpace the current market environment in finding, developing, and strategically placing leadership talent in this rapidly changing, tech-driven, multi-generational, increasingly automated, remotely located, AI-obsessed, business landscape—all while remaining true to our four values of honesty, humility, respect, and fun. Base4 is just beginning, and the team will be ready for all new challenges, opportunities, and endeavors," asserts Dr. Vermaas.
 
As CLO, she will:
Provide relentless support, training, courage, tools, and structure to Base4 Directors and Team Leaders.
Enhance and increase open communication among and with the executive team.
Launch and drive the Executive-in-Training (EIT) Program.
Strategize placement of talent/leaders into offices and structures of the organization to expand Base4's global reach into new markets.
Further develop, systemize, automate, and market the Leadership Development/Servant Leadership Program.
Focused on Unexpected Talent
Throughout her tenure at Base4, Dr. Vermaas has authored and implemented a scientifically derived Leadership Development Program based on the firm's core values and has coached 103 team members through this vigorous course. Through the LD Program, she promoted 25 Team Leaders and 20 Directors, spanning all departments and geographical areas. She also provided ongoing coaching to the executive team while providing conflict resolution and interpersonal trainings to ensure that communication among all team members reflected the Base4 Values.
Through working with hundreds of individuals at Base4, Dr. Vermaas plans to continue in her field of research to promote a values-based leadership philosophy that accepts, develops, and leverages people's strengths and minimizes their weaknesses through strategic automation. "By blending the latest technologies with values-based leadership principles, Base4 intends to not only build incredible buildings– but also incredible leaders who can stand on their own in any marketplace."
Poised for More
 
We all have heard stories of breaking the glass ceiling and rising above the ordinary. Dr. Vermaas lives to tell them. Being a mother of 10 adopted children from China, India, and the Philippines– while still wearing numerous hats in various professional and mission-based initiatives, is no easy feat, as will be discussed in Drs. Vermaas' upcoming book. In that book, she and her family pen their perceptions and experiences of living through delight, pain, failure, and success while building up a family of once-strangers.
 
Dr. Vermaas gives credit to her strategic organizational skills, spiritual purpose, and husband of 21 years for the successful balance between her home and work life. "Persistence, organization, and clear purpose underscore everything I do," she adds.
 
Her perseverance and thirst for knowledge paired with her calm and courageous demeanor have helped her successfully wade through many stumbling blocks along the way. Base4 is confident to reach new levels of success under Dr. Vermaas' watch!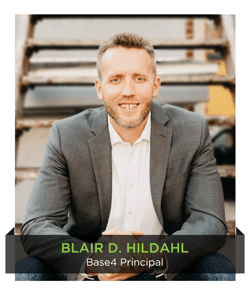 Thank you,
Blair Hildahl
Base4 Principal
608.304.5228