Reading Time:
4
minutes
The growing demand for mid-rise apartment buildings is creating both challenges and opportunities for developers.
Land keeps getting more expensive which means maximizing densities is more important than ever! When multifamily developers evaluate a new potential apartment site, they must assess what type of building will be the most efficient based on density, parking, and unit count. Two of the most common low/mid-rise options are the podium or wrap concepts. Today we'll explore the basics and benefits of each of these options.
The Wrap Concept
The wrap-around configuration (also known as the "Texas Donut") typically consists of a central above-ground concrete parking structure which is surrounded or "wrapped" by 4-7 stories of wood or CFS construction.
Here are the details:
This design solves several suburban planning issues, one being passing traffic that does not see the parking garage.
Wraps are typically best-fitted for urban transitional areas on the edges of cities.
This option works well where land prices don't allow for garden-style layouts with surface parking.
Typical densities range from 50-90 units per acre depending on on-site configuration and the number of stories.
The hidden garage concept provides visual appeal and provides added security for residents.
These buildings can take on many forms and can be designed to relate to nearly any context.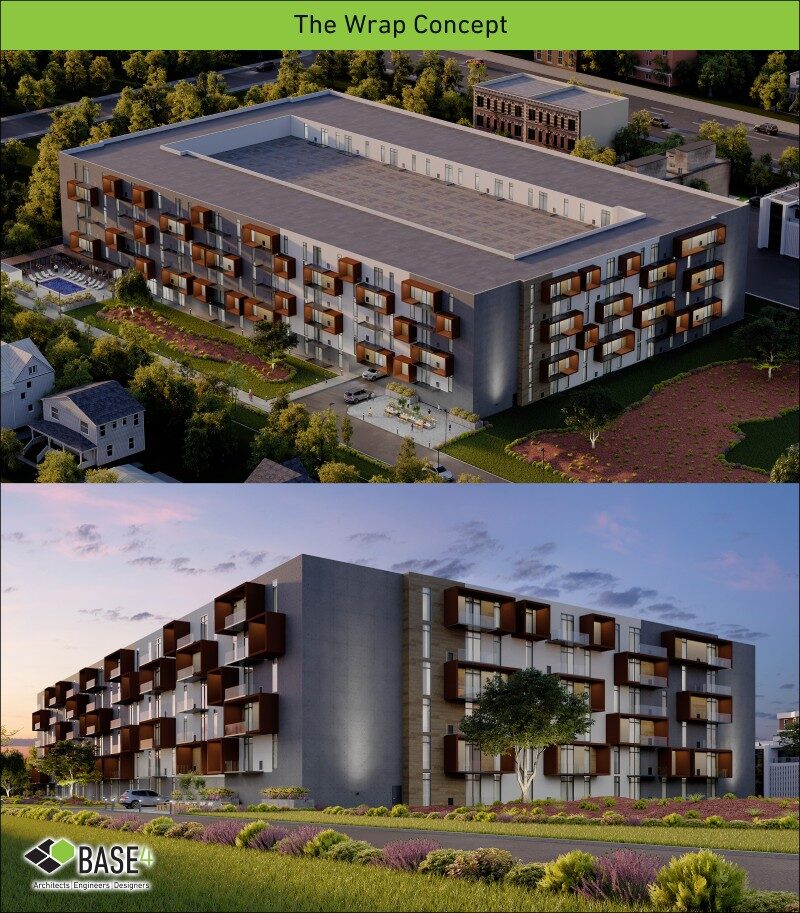 While they are a good fit for many locations and are typically cheaper to build, the densities can be much lower than comparable podium sites.
The Podium Concept
A podium is typically 4-6 stories of wood or CFS construction positioned on top of a concrete structure, the podium. Podium construction (also known as pedestal or platform construction) includes multiple stories of light framing over a single- or multi-story podium typically constructed of concrete.
A podium design allows for a flexible and more innovative design within tight urban sites, including greater use of prefabrication and offsite construction.
The podium can be 1-2 stories above grade and normally houses all parking as well as the lobby space, supporting amenities, and any third-party retail space.
The longer spans and tall ceilings afforded by the concrete podium make it perfectly suited for retail and restaurant tenants, while the top provides a space for outdoor amenities such as pools and gardens.
Typical densities are higher, with 80-120+ units per acre depending on on-site configuration and number of stories.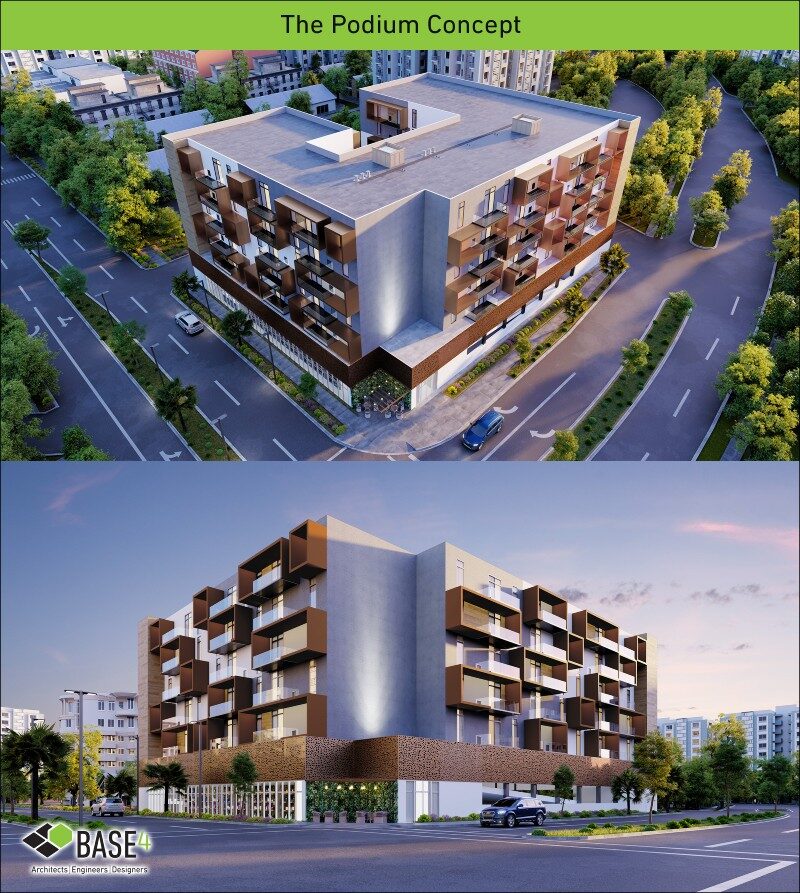 Find out more with Get More with Modular Over Podium and these other offsite solutions:
Get More with Modular Over Podium
Double Time Your Build: Podium + Modular
Panelized Construction for Multifamily
Build Apartment Walls in a Factory
Wondering what's the best concept for your next site? That's what we are here for. Every day we provide our clients with zoning analysis summaries and site density studies to help them determine the most efficient design possible. Please don't hesitate to contact us if you have any questions.
Check out STONEPILE llc, The Online Construction College—our higher education solution for today's emerging construction leaders. Enrolling now for our May 2021 start date!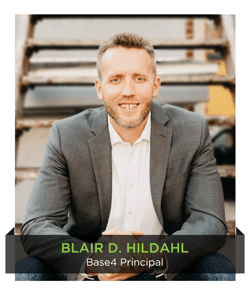 Thank you,
Blair Hildahl
BASE4 Principal
608.304.5228
BlairH@base-4.com


Sources: