Reading Time:
4
minutes
Keeping up with trends and updates of 2021, today I talk about a term used in development—Opportunity Zones. Not sure what it is and how you can benefit from it—read on!
What is an Opportunity Zone?
An Opportunity Zone is an economically-distressed community where new investments, under certain conditions, may be eligible for preferential tax treatment.  Localities qualify as OZs if they are nominated for that designation by a state, the District of Columbia, or a U.S. territory, and that nomination is certified by the Secretary of the U.S. Treasury via his delegation of authority to the Internal Revenue Service (IRS).
There are more than 8,760 designated Qualified Opportunity Zones created under the 2017 Tax Cuts and Jobs Act, to stimulate economic development and job creation, by incentivizing long-term investments in low-income neighborhoods.
What are the Benefits of developing on a QOZ?
Temporary deferral of taxes on previously earned capital gains. Investors can place existing assets with accumulated capital gains into Opportunity Funds. Those existing capital gains are not taxed until the end of 2026 or when the asset is disposed of.
Basis step-up of previously earned capital gains invested. For capital gains placed in Opportunity Funds for at least 5 years, investors' basis on the original investment increases by 10 percent. If invested for at least 7 years, the basis increases by 15 percent.
Permanent exclusion of taxable income on new gains. For investments held for at least 10 years, investors pay no taxes on any capital gains produced through their investment in Opportunity Funds (the investment vehicle that invests in Opportunity Zones).
Construction businesses do not directly benefit from the QOZ program, but they certainly indirectly profit from it. As QOFs begin accepting taxpayer funds, they will be pushing for new building projects. Therefore Developers will have more offers.
Opportunity zones can be a great way to invest in real estate with the advantaged tax care programs while helping improve communities in need of new development.
Here at BASE4, we can help investigate if your Opportunity Zone is great for your project based on the code study we provide. We help build cheaper and faster so that you have a quick return on investment.
Check out STONEPILEllc—The Online Construction College, the only institution of higher education dedicated 100% to construction innovation and education.
Also, don't miss a chance to attend Advancing Prefabrication 2021, a leadership conference dedicated to revolutionizing prefabrication and industrialized manufacturing approaches. Coming soon: June 15-17th, 2021.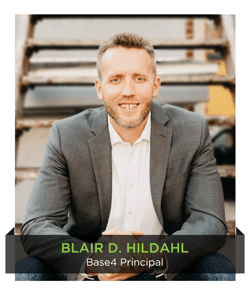 Thank you,
Blair Hildahl
BASE4 Principal
608.304.5228
BlairH@base-4.com


Source: