Reading Time:
4
minutes
First impressions matter; having an attractive interior can help make a project appealing. As a developer, have you ever wondered about the importance of having interior design professionals as part of your project team? Read on.
Did you know? 3D interior rendering has unquestionably shaped decisions by developers.
Benefits of Hiring an Interior Designer
Interior design professionals enhance the functionality of your spaces and bring fresh perspectives and creative solutions to the table.
Adding a designer to assist you in your projects to help make informed decisions on the best areas to allocate your budget to maximize its value.
Well-designed spaces can add value to your project and make it more marketable.
Having interior design professionals involved from the start of the project can help avoid costly and time-consuming design changes.
Due to the interior designer industry experience and knowledge about pricing. They can provide accurate cost estimates for materials, furnishings, and labor, helping you plan your budget more effectively.
See below a selection of the interior design work provided by our talented and creative Interior Design team.
---
---
HYATT PLACE – NEW SMYRNA BEACH, FL
---
---
VIEW APARTMENTS – ALBUQUERQUE, NM
---
CAMBRIA & FAIRFIELD INN – MINNEAPOLIS, MN
---
---
YELLOWSTONE LANDING – BELGRADE, MT
---
BASE4 ID Team
Our expert interior design professionals will assist you in optimizing the spatial layout of your project. We understand the importance of creating visually appealing spaces. Our team will work closely with you to achieve the desired aesthetic, incorporating color schemes, materials, and textures that align with your vision. We provide a wide range of services to enhance your project.
Did you know: Our incredible ID Team works on PIPs and renovations.
Having an in-house ID team advances coordination efforts, avoiding the delays often associated with involving a third-party ID firm. The BASE4 ID Team is here to help!
We understand the importance of working within a budget. Our team will help you optimize your project budget by recommending cost-effective solutions without compromising quality and aesthetics.
Here's a 3D walk-through video of the custom interior design of the Hyatt House Hotel located in Orlando, FL. Our amazing ID Team provided these incredible custom designs and great interior details with the help of our fantastic Viz Team.
If you're a developer searching for a trusted partner to bring your vision to life, the BASE4 Interior Design Team is here to help.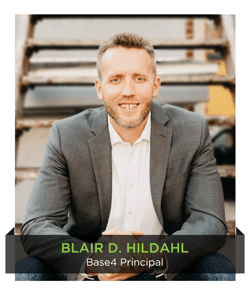 Thank you,
Blair Hildahl
BASE4 Principal
608.304.5228
BlairH@base-4.com