Reading Time:
4
minutes
Modular construction, which can cut down the cost and time of building, is gaining popularity in North America as developers look for more efficient and adaptable ways of construction. This method offers a more flexible option in construction as it reduces the need for on-site labor, materials, and equipment. Is it time to consider modular?
Manufactured Housing Programs
The U.S. Department of Housing and Urban Development (HUD) made an important announcement regarding the establishment of a new Office of Manufactured Housing Programs. The primary objective of this newly formed office is to facilitate the growth of manufactured housing to tackle the nation's ongoing inventory challenges effectively.
Thanks to the work executed by our Office of Manufactured Housing Programs over the last two years, we have made significant progress to support the availability of modern and affordable manufactured homes.
~Assistant Secretary for Housing and Federal Housing Administration (FHA)
Commissioner Julia Gordon
Experts in Modular Design
Our team partners with developers and general contractors to rethink traditional building methods by infusing innovative technology, forward-thinking design, and offsite manufacturing principles to build projects CHEAPER and FASTER!
*A new modular housing project in AZ that our incredible team is working on. Stay tuned for more details!
BASE4 believes in projects that are both affordable and fast to build. Our team excels in developing innovative solutions to minimize the cost of your project by incorporating smarter design practices. Modular construction offers easy relocation or expansion, improved quality control, reduced construction time, better design options, and minimized waste production.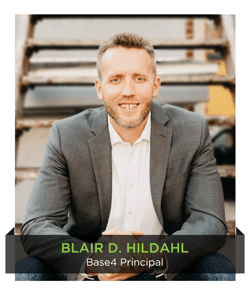 Thank you,
Blair Hildahl
BASE4 Principal
608.304.5228
BlairH@base-4.com