Reading Time:
7
minutes
Timing, Coordination, Quality, Budget: How Can Modular Work for You?
Off-Site Construction is Trending
Hoteliers have a lot on their plate right now! Here are just some of the current challenges in today's AEC industry:
Coordination problems among the various teams, like AEC professionals, vendors, contractors, subcontractors, permitting officials
Speed-to-market concerns during this current skilled labor shortage
Quality-on-a-budget during this turbulent economic market
As a potential solution, everyone is talking about off-site, modular construction—but does it work for YOU? Today marks the beginning of my three-part series on modular construction, courtesy of our new venture, Modz4.
Base4/Modz4 CEO Dr. Garry Vermaas and CMO Blair Hildahl visiting the Z Modular factory in Birmingham, Alabama.
Modz4
is a team of 300 hotel-focused AE experts who specialize in commercial modular design. Using Revit and 3D technology, the 24-hour global team quickly delivers detailed construction documents—including Architectural, Structural, MEP, and Interior Design inputs—that are both easy for GC/subs to bid and build. Modz4 guides all stakeholders through the modular process and facilitates permit and code compliance.
Sign up now
for regular updates on all things offsite construction!
Advantages and Considerations
Let's begin with modular units. Volumetric modular construction can do wonders for the building process. Prefab construction is especially conducive for structures with commonly seen recurring units (e.g., guest or resident bedrooms).  So, what sets modular rooms apart? Let's begin!
The Basics
Most common (volumetric) modular units are repetitive blocks (e.g. rooms) produced off-site in a factory—with nearly fully-furnished interiors.
A standard unit includes two rooms separated by a corridor. Bays can also be fabricated into separate units.
Modular manufacturers design and equip individual modules with all necessary items, including everything from the bed mattress to the wall art.
Each module is engineered independently and built to resist the rigors of transportation.
After production and shipment, modular units arrive at the prepared site.
Typically, modular units are placed on a traditionally framed ground floor steel or concrete podium structure and start at the second floor rather than directly at slab on grade. (i.e., allowing access to the bottom of the modular units after they are set).
Once joined to the structure, final installation of electrical, plumbing, mechanical, and structural connections occur in the corridor.
The Advantages
Let's see how modular can fit into our process: timing, coordination, quality and budget.
Timing
Modular units can be produced off-site simultaneously as the foundation and podium come together onsite.
As a result, modular construction typically reduces build-time for a standard four- to five-story, 100-unit project, by three to six months when compared to traditional construction methods.
Coordination
Coordinated Teams: It is usually the design consultants like Modz4 that do all the legwork to coordinate among the owner, developer, franchise, and modular manufacturers. Modz4 also serves as a guide to educate these stakeholders throughout the modular process— even including the local permitting authorities.
Cleaner Sites: Off-site construction also simplifies other coordination needs by reducing traffic and disruptions while facilitating cleaner sites. Minimal on-site construction and fabrication reduces the number of trucks, personnel, and equipment—minimizing on-site noise, dust, and pollution.
Fewer Site Disruptions: The modular process also means fewer disruptions to surrounding traffic (i.e., due to lane closures for deliveries) and parking demand for on-site workers.
Inspections: While local inspectors will still be responsible for many aspects of a project (e.g. ground floor areas, rooms corridors, etc.), the modular approach will reduce the number of local inspections required as modular units are inspected at the factory.
Quality
Higher Product Quality: A production line assembly helps maintain precision and high quality in a controlled factory environment, in accordance with developed standards.
Increased Sound Insulation: All rooms are separated by a double-wall with a one-inch air gap, leading to higher sound ratings.
Safer Work Environment: The modular construction site is less chaotic than traditional build ones because fewer workers are needed for installation and site work. When you go modular, the site only requires deliveries for furniture, fixtures, and equipment (FF&E), reducing the number of boxes stacked on site and making the site less hazardous to fire.
Budget
You save on your budget by saving on time and labor costs.
Moreover, wood modular construction is—for the most part—cost-neutral when using traditionally wood-framed podium construction.
Considerations
Education & Scope Issues: Since modular construction is relatively new, many GCs, suppliers, subcontractors, lenders, and city representatives will need education on how this construction type is different from a traditional project.
Procurement: All FF&E must be delivered before the modular factory starts unit production. Additionally, significant décor changes cannot be made as these items already would have been purchased.
Production Limitations: Room sizes for modular projects are limited. Due to shipping constraints, each unit cannot be more than 14 to 16 feet wide, 60 to 75 feet long, and 11 feet high.
Upfront Financing: Since the factory production process is pivotal for modular projects, 60-70% of your entire construction cost is needed upfront to purchase the modules.  Lenders might need education to better understand this process.
Inspections: Because modular units arrive already inspected, you likely will need to alert local inspectors about the change in their scope.
Modular construction can be a great fit, but not everyone understands how modular works.  Educating your team is vital for you to harness the advantages of modular. Careful coordination between the owner/GC and other stakeholders is vital for clarifying everyone's role to ensure project success. Fortunately for you, we at Modz4 take care of that!
Next week you will get your questions answered as we discuss some of the most frequently asked questions (FAQs). In the meantime, reach out to me for your immediate inquiries!
If you want to keep learning more, I recommend signing up for my other list, made specifically for the modular-curious.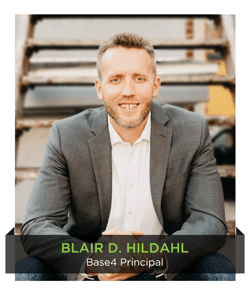 Thank you,
Blair Hildahl
Base4 Principal
608.304.5228
Check out these designs!