Reading Time:
4
minutes
Rooftops are a selling point on their own, but in 2022 the demand for both multifamily and hospitality rooftop areas increased, and this trend is only getting bigger. Read on!
Spaces to relax, entertain, and retreat are becoming more popular. A rooftop area can add much value to your project. It can become a gathering spot, a shared zone for residents or guests, or the perfect spot for events and communal spaces. Hotels and multifamily alike have been incorporating rooftop spaces into their designs.
Here are some of the most in-demand rooftop features:
Lounge Areas: Guests and tenants love small nooks on the roof deck.
Event Hosting Spaces: An area perfect for hosting events equipped with all its essential items.
F&B: Adding a bar, appetizer service, or even a full kitchen/restaurant to a project can add a revenue stream and help support lounge areas.
Pools: Although not the best fit for every project due to cost and geography, rooftop pools can be a huge selling point for tenants. Putting a pool on a property increases demand for your property exponentially and raises its value.
A rooftop area is one of the most exciting amenities a project offers. Due to its unique design, incorporating rooftop amenities will help capture the attention of guests and renters. But a rooftop amenity space isn't suitable for every project—the location of the building, the climate, and the type of construction can all affect the design. So here are a few things to help you determine if this is the right direction for your next project:
Weather/Climate: How often will common open-air space be utilized?  If you have long cold weather and rain periods, enclosable spaces may be a better fit.
Site Lines/Views: What will draw your guests/tenants to the roof?  Do you have city, landscape, or ocean views that will keep bringing people back?
Construction Type: As we've discussed before, a building's number of stories is limited by construction type. The building code interprets an accessible roof as an additional story and may limit your options.
Sound: Common spaces, especially of the F&B variety, can lead to a noise source that could lead to complaints from guests/tenants, especially on upper floors. STC and IIC ratings should be reviewed closely to limit these problems.
Access/Security: Will the rooftop space be used solely for guests or allow third-party/outside access?  If yes, you may need to consider adding dedicated elevator access from the ground floor to limit outside patrons accessing guest/tenant floors.
Cost: Rooftop spaces can be costly, both upfront construction costs and operational costs. Consider the additional cost to add these components to your projects, including support facilities like bathrooms, storage, etc., as well as additional labor challenges that might be required to staff and maintain these spaces.
A good design will allow for efficient use of space and easy access to maintenance and utilities.
Your Project Needs a Rooftop Area? We Can Help!
Architects & Engineers Rethinking the Way Buildings Get Built.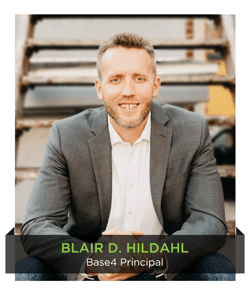 Thank you,
Blair Hildahl
BASE4 Principal
608.304.5228
BlairH@base-4.com