Reading Time:
5
minutes
A dual-brand offers developers the option of doubling up offerings at a single property. Hotel developers are looking for a way to attract new customers while cutting costs; a dual-brand hotel would be the right option for your next hotel project. Read on.

Home2 Suites & Tru – Milwaukee, WI
One of the most appealing parts of a two brand, one building approach is the ability to maximize the value of land, which is one of the biggest costs of developing a new hotel property.
What is a Dual-brand hotel?
Dual-brand hotel is a term used to describe a property that combines and houses two hotels that operate together. Usually, these hotels combine two brands under the same umbrella.
This property type provides a stand-alone appearance to the guests but shares back-of-the-house operations and guest amenities such as meeting spaces, restaurants, or pools.
Dual-brand hotels are designed using a linked or blended model:

Linked: Two hotels in one building with standalone entrances and lobbies. Back-of-house (BOH) and amenity spaces are typically the only items shared between the two hotels.
Blended: One building with one common entrance for both hotels. In addition to back-of-house (BOH) and amenity spaces, front-of-house spaces such as lobbies and breakfast areas can also be shared.
Dual Marriott – Edina, MN
Dual-branding has become a popular trend with increased interest among business and leisure travelers.
Benefits
Reduced Construction Cost: Sharing costly parking, utility infrastructure, receiving/trash, pool & fitness areas, meeting rooms, laundry, restaurants, and engineering departments can save significant costs.
Maximized Density: Locating two hotels on one parcel greatly increases the number of guestrooms per square foot of property which is important in areas where land is at a premium.
Decreased Operational Overhead: Utilizing housekeeping, maintenance, BOH/FOH staff, and engineering for both flags allow more flexibility in allocating staff where needed.
Diversified Target Guest: From a marketing standpoint, offering "two in one" can be more attractive for a diversified target audience. Providing both select service and extended stay accommodations allows owners to service a larger range of guest demand.
Enhanced Guest Experience: Guests can take advantage of larger shared service amenities such as oversized fitness rooms, pools, and bars that may not otherwise be present if it were a standalone flag.
Dual Home2 & Hampton Inn – Aurora, CO
Here at BASE4, we are excited to be a part of this trend and look forward to assisting our clients in developing new properties. Our team is here to guide you in the development of these incredible hotels.
We at BASE4 believe in a PRODUCT mindset—bringing standardization and manufacturing principles to an outdated system. We have a product-centered approach using 100% Revit design. We perform all services in-house, including architecture, structural engineering, MEP engineering, interior design, 3D BIM visualization, and construction administration.
Here's a highlight of some of our Dual-brand hotel projects: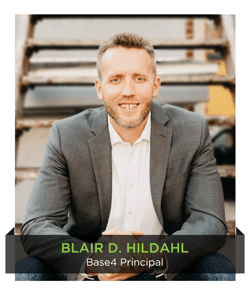 Thank you,
Blair Hildahl
BASE4 Principal
608.304.5228
BlairH@base-4.com