Reading Time:
4
minutes
Extended-stay hotels are gaining recognition as a credible alternative to traditional multifamily housing. With their flexible accommodations and extended-term rental options, these hotels have found a niche for individuals seeking temporary or transitional housing solutions. Extended-stay hotels have emerged as a popular solution to address the shortage of multifamily housing. Read on.
The Market Shift Toward Extended Stay Hotels
As the demand for housing continues to outpace available options, extended-stay hotels have become a compelling alternative. The market is increasingly leaning towards extended-stay hotels over traditional multifamily projects. One of the primary reasons behind this shift is the higher returns that investors can expect from extended-stay hotels compared to conventional multifamily options.
Extended-stay hotels are becoming increasingly attractive to investors due to their higher returns than traditional multifamily options.
In contrast to multifamily buildings, hotels often have on-site management and staff to handle day-to-day operations, reducing the burden on the investor.
Extended-stay hotels are often more affordable than apartments.
Did you know: Business travel is a key factor driving the demand for extended-stay hotels, making them a smart investment choice in today's market, especially considering their affordability compared to apartments.
---
---
---
---
---
---
According to recent data, U.S. hotel developers have shown a greater inclination towards extended-stay properties than any other hotel type. Lodging Economics states that extended-stay projects account for 32% of the hospitality construction pipeline.
BASE4 | Hotel Experts
The hospitality industry has exciting opportunities ahead, and BASE4 is proud to be a part of it. We have the expertise, technology, and processes to guide clients through every stage of their project anywhere they are. We believe in a PRODUCT mindset—bringing standardization and manufacturing principles to the AEC industry. Our team is excited to be a part of the midscale extended-stay hotel trend. We are here to discuss the best way to build with a product-centered approach.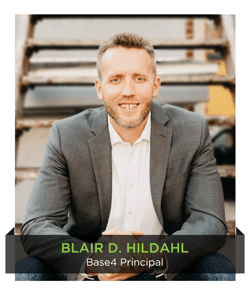 Thank you,
Blair Hildahl
BASE4 Principal
608.304.5228
BlairH@base-4.com