Reading Time:
4
minutes
Every tenant and guest deserves a quiet space. But it's not just the outside noise you need to be aware of—flanking noise does exist! The most common sources of flanking noise are electrical outlets and ductwork. In this article, you'll learn more about each and how to stop that hidden noise. Read on!
What is Flanking Noise?
Flanking sound or flanking noise is sound that transmits between spaces indirectly, going over or around rather than directly through the main separating element. These sounds have found their way around or through the wall assembly.
Sound waves travel through walls, infiltrating the adjacent room.
Here are the most common causes of hidden noise and what you, as a developer, can do to fix them:
Electrical Outlets
---
Avoid installing electrical boxes on the same stud cavity creating a back-to-back condition, as shown in the graphic below. Seal any gaps between electrical outlets and drywall with acoustic seal and putty pads.
Ductwork
---
Avoid ductwork paths between areas where you'd like to separate noise. More specifically, longer and more complex and indirect ductwork (i.e., bends/turns in the ductwork) will improve sound performance.
Use Duct Liner. Most codes require insulated duct liners, which contain sound-absorbing material to reduce sound transfer within the ducts.
Use Soffits whenever possible. Soffits create a sound barrier of drywall between the noise source and the ductwork.
Did You Know
Running framing from the corridor to the exterior wall reduces flanking noise. Floor Framing Perpendicular to Corridor–Trusses or TJIs run from the exterior wall to the corridor wall. With this method, joists from adjoining rooms do not share bearing points or blocking. This means the structure-borne sound is controlled better, both from room to room and from room to corridor.
As designers, we often get asked about the trends we are seeing in construction that can reduce project costs…
BASE4 Is Your Multifamily And Hotel Expert!
BASE4 has a product-centered approach using 100% Revit design. We perform all services in-house, including architecture, structural engineering, MEP engineering, interior design, 3D BIM visualization, and construction administration. We have over 200 engineers, architects, and designers ready to move your projects through to completion—with fewer coordination errors and faster speed.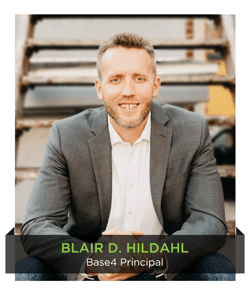 Thank you,
Blair Hildahl
BASE4 Principal
608.304.5228
BlairH@base-4.com